Adrian J Cotterill, Editor-in-Chief
Digital Signage Expo, easily the world's largest and longest running International Conference and Tradeshow dedicated exclusively to digital signage, drew just over 4,000 attendees earlier this year.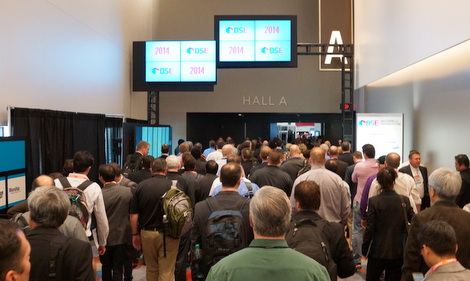 It is claimed that over 42% of those were end users (the primary prospects, of course, that DSE's exhibitors want and need to see) but, personally, I find that a little hard to believe. 1,813 exhibitor personnel also attended, bringing DSE's total attendance to over 5,800.
Almost 30% of the attendees traveled from outside the US (that we can believe), attracting people from 67 different countries including: Canada, Mexico, Brazil, South Korea, Japan, Columbia, China, the United Kingdom, Australia and Taiwan.
Amongst the 200+ exhibiting companies, 56 were exhibiting for the first time and 44 were from international markets, expanding the show floor 13% over 2013 to just over 70,000 net square feet.
DSE's organisers however are faced with a real conundrum going forward…
Attendance. Attendance at the event has been pretty much stuck at the 4,000 level now for a couple of years. The show itself is simply not growing at a pace that it should be. Many reasons have been put forward for this fact over the years, but it's quite clear that 'end users' come when they have a budget and when they are looking at items for a deployment. They come, they look, but they have little reason to return year on year (once their deployment is complete or their budget spent).
Decision Makers. Attendance could be 4,000 or 40,000 – the key to any exhibition is in reality the number of real (not pretend) decision makers amongst the crowd. That's always hard to quantify and published statistics will never tell you the deals that were done. Either way DSE needs to up its game and focus on getting as many decision-makers to attend as possible – and err, one way to do that is to focus on QUALITY education sessions (see below) and foster innovative CxO level events.
The Front Row vs The Rest. The truth is that the huge exhibitors at the front of the show floor have the huge dollars and people resources to ensure that they get the traffic to justify their spend, but it is the exhibitors in the back three-quarters of the floor that have to (and will be) questioning the overall value of their spend.
On-Site Meeting Rooms. This year, everyone will have noticed a huge stack of plain vanilla-looking meeting rooms at the back of the hall. Many folks who, you would imagine, would be keen to exhibit, simply took meeting room-only space. (There was seemingly not the usual trade show requirement to exhibit first before being allowed additional meeting room space.) No doubt, this brought in extra revenue, but for the casual attendee, the exhibition area did not look as lively as it has in the past.
Off-Site Meeting Rooms. Some of those who did exhibit also took meeting room space in nearby hotels – the idea, no doubt, being to keep prospects away from the eyes of competitors. At least those we know who had offsite meeting rooms also exhibited.
It's More Like a Convention. It was fellow industry commentator Dave Haynes (we think) who said that these days, DSE was more like a 'convention' than a trade show. With On-Site and Off-Site Meeting Rooms galore (see above), oh and rather too many Industry Sycophants (see below) we'd tend to agree with the convention style feel, rather than an exhibition feel.
Industry Sycophants. Yes, they hang around, they kick tyres. They waste exhibitors' time. Quite simply, we all know who they are, and unless they pay an awful lot of money, I wouldn't let them in. (The trick, you see, is that they volunteer to speak on a 'panel of experts' and then walk around FOC with a 'speakers' badge.) In fact, on second thought, even if they paid, I wouldn't let them in. We don't at our events in NYC in October.
Too Many Education Sessions. We've said this every year but there are STILL far too many education sessions on the first day. Some of them shouldn't even be classified as err education. We know that these sessions bring in an awful lot of money to the organizers BUT what it should be all about is quality, NOT quantity (otherwise the event does the industry a true disservice).
Free Seminars. We don't get why there are so many free seminars during show times. Again, they eat away at attendance at 'quality' paid day-before education sessions. Too much, too free!
Sharing Stands. Two things killed #ScreenmediaExpo in London: one was the fact that the 'front row' (see above) pulled out, and secondly 'stand sharing' reached unprecedented levels. It's cheaper, you see, to cuddle up to Intel and have a little section of their stand rather than pay for your own. I can understand Scala, taking not one BUT two stands and putting all of their partners on it (that's different), but we can probably all name at least a dozen companies who borrowed space with Intel or Samsung rather than do anything on their own.
The industry needs a good annual show and DSE is the best we have but the organizers are going to have to work very hard in the next 12 months to keep their event relevant – especially as they face increasing competition from the likes of CES for technology announcements and vertical trade shows like NRF etc..