Gail Chiasson, North American Editor
Clear Channel Outdoor Holdings Inc., Equity Office Properties and Philips Color Kinetics announced that a bright orange glow are greeting South Station commuters March 3-9 as Boston shows its support of National Multiple Sclerosis Week.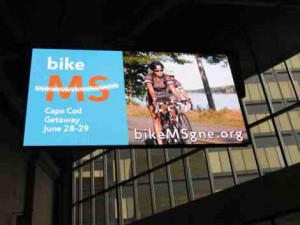 Clear Channel Outdoor, the new advertising media provider in Boston's South Station, signed on to support the MS Week awareness campaign through the orange illumination of the station's exterior as well as strategically-placed campaign messages on digital billboards across the Greater Boston community.
Additionally, Clear Channel's digital billboards in South Station will maintain a hold on orange once per hour in symbolic reference to the one person diagnosed every hour with MS.
In conjunction with the Greater New England MS Society, The Prudential Center and the Zakim Bridge will also be illuminated orange by Phillips to raise awareness of, and support for, MS research and services that help people living with the immune-mediate disease.
"Someone is diagnosed with MS every hour of the day," says Stephen Ross, president, Clear Channel Outdoor-Boston. "Researchers and care providers face considerable challenges as they learn more about MS and strive to help people living with the disease achieve a better quality of life. We are proud to promote awareness to help generate support for research and care services."
"The National MS Society is dedicated to creating a world free of MS, but we cannot do it without help," says Michael Marks, project manager, O'Mahony & Sons Electrical Inc., and member of the steering committee for marketing and fundraising for the New England MS Society. "Orange is the national color for Multiple Sclerosis Awareness, and the illumination of South Station, the Prudential Center, Zakim Bridge and Clear Channel's digital billboards will have an enormous impact helping bring attention to the issue. Clear Channel Outdoor's generous donation of advertising space on its inventory in the station and digital billboards across Boston will help extend our message more deeply across the community."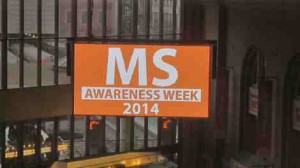 "On behalf of our team at Equity Office and South Station, we are proud to support awareness of the MS Society and hope that someday, we will find a cure," said Mark Smith, market managing director, Equity Office.
Clear Channel Outdoor recently acquired the rights to manage South Station's specialized LED lighting system, 75 impactful ad displays and two captivating digital screens. The digitally controllable LED lighting system that lights the façade of South Station has the capability of producing custom light shows from a palette of more than 16 million colors.