Gail Chiasson, North American Editor
This past Sunday, as stars arrived prior to the Academy Awards in Hollywood, Screenfeed was live streaming video of the red carpet event to large-format displays in several U.S. malls.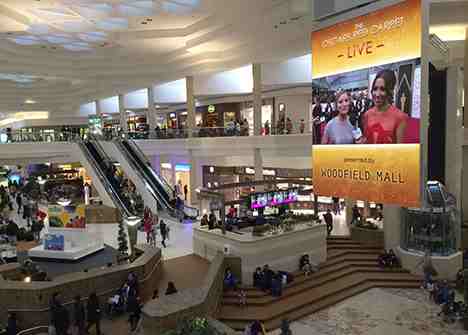 Screenfeed has provided event-based content before, having recently provided Medal standings and news from the Sochi Olympics and has plans for World Cup content, but last Sunday was the first time it had delivered a live feed for an event.
The live stream of the red carpet where stars are setting trends and styles with what they are wearing was just the type of digital content the malls were looking for, since associating themselves with fashion and style meets their objectives.
Jeremy Gavin, CEO of Screenfeed visited some of the malls during the live stream, where he was able overhear people talking about the screens and see them stop what they were doing for a while to watch.
"The content looked amazing and we look forward to doing more of these types of live streams," says Gavin.
The 13 foot x 18 foot (4m x 5.5m) screens are manufactured and managed by Daktronics and are hung from the ceiling of numerous malls around the globe. They are placed in central areas within the malls and attract attention to mall information, third-party advertising as well as daily entertaining content provided by Screenfeed, including social media feeds, weather, news and other custom content.