Gail Chiasson, North American Editor
The Jacksonville Jaguars has partnered with Daktronics, Brookings, South Dakota, to manufacture and install what is believed to be the largest HD LED video displays in the world at each end zone of EverBank Field in Jacksonville, Florida.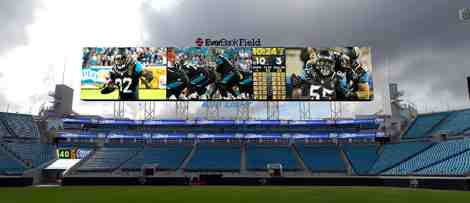 Each display will be long enough to reach more than the distance from the goal post in one end zone to the goal post in the other end zone, and each display will boast more than 21,700 sq. ft. of active display area – almost enough to cover the entire field of play when combined.
"As the construction takes shape, we can all envision what an impact this will have on EverBank Field and the game-day experience," says Shahid Khan, Jaguars' owner. "That was one of the reasons from the beginning for embarking on this ambitious project. We want EverBank Field to be a world-class destination, and we want to bring energy and attention to Downtown Jacksonville. Our goal is to offer best-in-class amenities and the best in-stadium experience for our fans and for everyone who visits Jacksonville and EverBank Field."

"We owe our fans and this community nothing less than the best, and these enhancements will be the best," says Mark Lamping, Jaguars' president. "These stadium upgrades will drastically change the in-stadium experience and create a truly unique environment that you cannot get at home. This will be an eye-opener and an attention-getter for Jacksonville."
The two massive end zone displays will each measure 60' high x 362' wide and feature a 13HD pixel layout. A goal of these displays was to have three side-by-side HD video images for multiple replay shots and other video content. A section of 60' high by 106' wide gives them the needed real estate for such a feat, with an extra 44-foot-wide buffer space for graphics and other content.
They are still capable of showing one large image to highlight live video and instant replays and can also be divided into any combination of separate windows to show a variety of vivid graphics, colorful animations, up-to-the-minute statistics, scoring information and sponsor advertisements.
"The collaboration between Daktronics and the Jacksonville Jaguars to manufacture the two largest LED video displays in the world is a testament to the engineering capabilities of our company," says Reece Kurtenbach, CEO, Daktronics. "These high-quality video display systems for the Jaguars and EverBank Field will create a memorable experience for fans when football season returns."
Below the north end zone display will be a display measuring nearly 10' high by 320' wide featuring the same 13HD pixel layout.
On the opposite end of the field, there will be two ribbon displays on both levels of fascia in the seating bowl below the south end zone main display. Each ribbon display will feature a 15HD pixel layout. The top display, measuring more than 3' high x 365' wide, is curved to appear the same length as the bottom display, which will measure more than 3' high x 295' wide.
Each side of the field will receive a ribbon display along the seating fascia, each measuring more than 3' high x 573' and featuring a 15HD pixel layout.
Four new displays will replace the existing displays in each corner of the stadium. These new displays will each measure approximately 18' high x 32' wide and feature a 15HD pixel layout.
And two additional displays will be installed above each tunnel at opposite corners of the stadium. These displays will each measure 6' high x 24' wide and will also feature a 15HD pixel layout.
All of these additional video and ribbon displays will provide the opportunity to showcase sponsors throughout events and provide up-to-the-minute statistics, fantasy football updates and other game information. All displays will incorporate excellent image clarity and contrast, and will provide multiple levels of protection from the elements. The wide angle viewing capability will provide fans with a clear view of the displays from any seat in the stadium.
Speaking of Daktronics' long-standing relationship with the Jacksonville Jaguars and the City of Jacksonville, Mike Kempany, Daktronics sales representative on the project, says, "Their new game-day experience will be unrivaled as the Jaguars unveil new LED fascia displays throughout the stadium and two of the world's largest high definition video displays. The Jaguars are proving their commitment to be on the leading edge of video technology and to the fans of Jacksonville. Daktronics is extremely proud of our ability to offer these high end systems which will set a new benchmark in professional sports."

Daktronics will also be including its Show Control System with this installation. This system provides a combination of display control software, world-class video processing, data integration and playback hardware that forms a user-friendly production solution.
The Jacksonville Jaguars are one of 32 member clubs of the National Football League, aligned in the South Division of the American Football Conference. Founded in 1993, they are entering their 20th season of play in 2014. Khan purchased the franchise in Jan./12.