Gail Chiasson, North American Editor
Harris Broadcast, a portfolio company of The Gores Group offering media software, networking and over-the-air solutions serving the global media and entertainment markets, announced its division today, Mar. 17/14, into two separate entities: Imagine Communications and GatesAir during its inaugural MediaDay held at Madison Square Garden in New York City.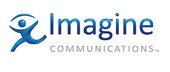 Imagine Communications will be headquartered in Dallas, with Centers of Excellence in Denver, Toronto, Los Angeles, Tel Aviv and Beijing. The company claims more than 3,000 customers spanning 185 countries, with more than 3 million products deployed that support over half of the world's video channels, along with a rich portfolio of patents.
GatesAir (over-the-air TV and radio transmission innovation) will be headquartered in Cincinnati, Ohio, with a state-of-art manufacturing, supply chain and fulfillment center in Quincy, Illinois.
Charlie Vogt, CEO of the two companies, says, "Our vision, product direction and strategy further align Imagine Communications and GatesAir with today's transformational trends, the networks of the future and our customers and partners. We have created two companies that are innovating across different ends of the technology spectrum. Imagine Communications will lead the media and entertainment markets to a future defined by IP, software, the cloud, and TV Everywhere, with an architecture vision for delivering and monetizing multiscreen content.
"Likewise, GatesAir will continue to lead the next-generation TV and Radio over-the-air market, with a focus on providing wireless innovations that reduce power consumption and carbon footprint, while leveraging the growth in digital radio and TV transmission across the globe.
"Our industry is moving rapidly to a place where media companies no longer want to deploy and manage proprietary technology. Our customers, channels and business partners around the world are enthusiastically embracing our new paradigm of service-oriented, software-based architectures that utilize commercial off-the-shelf technology and the virtualization of network functions."
Consistent with this vision, a new media platform is being introduced.
"Imagine Communications MediaCentral is an integrated, end-to-end ad sales, traffic, scheduling, automation and playout platform that virtualizes key capabilities in the cloud, which were previously provided only in distinct, separate, and often premises-based platforms," say Steve Reynolds, chief technology officer at Imagine Communications. "A reflection of our company's unique ability to combine the best capabilities of our end-to-end portfolio, it creates an underlying architecture of modular, IP-based services that can fully support the integration of media and playout functions, such as live log integration, simplifying operations and providing advanced service velocity for operators."
Imagine Communications is also introducing Software Defined Workflows (SDW, which improves the way video is managed through broadcast facilities by allowing the entire workflow to be software defined, bringing all media into the IP layer and separating the media content components from control.
Additionally, The company claims significant investments in TV Everywhere will leverage Imagine Communications MediaCentral and Multiservice SDN frameworks, further reducing the infrastructure required to allow for the multiple formats of the evolving multiscreen world – from the largest Ultra High Definition screens down to the smallest screens of smart phones and wearable devices. By optimizing the highest quality video stream for delivery over the variety of bandwidth users consume, Imagine Communications' TV Everywhere solutions will enable all networks to dynamically adapt to the amount of available bandwidth.
Imagine Communications will be releasing additional details on numerous initiatives in the coming weeks leading up to and at 2014 NAB Show, where it will be at Booth N2503.
The Gores Group, LLC is a global investment firm focused on acquiring controlling interests in mature and growing businesses which can benefit from the firm's operating experience and flexible capital base. The firm combines the operational expertise and detailed due diligence capabilities of a strategic buyer with the seasoned M&A team of a traditional financial buyer. The Gores Group, which was founded in 1987 by Alec E. Gores, has become a leading investor having demonstrated over time a reliable track record of creating value in its portfolio companies alongside management. Headquartered in Los Angeles, The Gores Group maintains offices in Boulder, CO, and London.