Gail Chiasson, North American Editor
When I've thought of Charlotte, North Carolina, in the past, I've always thought of NASCAR, but I'm also beginning to think that Charlotte is becoming one of the most advanced cities when it comes to digital signage – especially when it comes to its sports stadiums and its airport.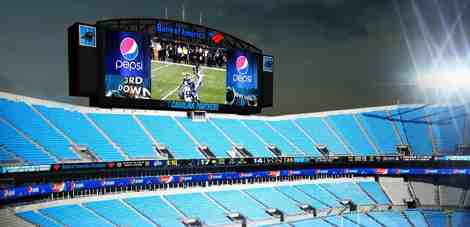 On top of recent news of new displays at Time Warner Cable Arena with the Charlotte Bobcats (with 10 Foot Wave) , the BB&T Ballpark with the Charlotte Knights (with Toshiba and TSE), and Titan's installations at the Charlotte Douglas International Airport, we now have word that Daktronics partnered with the Carolina Panthers to design, manufacture and install an integrated display system at Bank of America Stadium in Charlotte.
Each end zone at the stadium features a new LED video display measuring nearly 11,000 square feet to bring a larger view of the larger-than-life star players of the Panthers at every home game, plus two full 360-degree ribbon displays – the latter rare and possibly unique among professional outdoor stadiums.
Danny Morrison, president of the Carolina Panthers, says, "These new installations allow us to continue an 18-year relationship with Daktronics that began when Bank of America Stadium opened in 1996, and we know that our fans and sponsors will greatly enjoy the new look and feel of our stadium on game day as a result of this tremendous visual upgrade. Combined with a new fully distributed sound system, these new displays will help take our classic American stadium to the next level."
Both main video displays are featuring a 13HD pixel layout and measure 56' high by 199' wide. With multiple levels of protection from the outdoor elements, the displays incorporate the very best in image clarity and contrast with wide viewing angles to ensure every seat can enjoy the content that is shown.
The displays are capable of meeting every expectation by showing one large video highlight or instant replay while also capable of being divided into multiple sections to show a variety of game animations, graphics, statistics, scoring information and sponsor advertisements.
Bank of America Stadium becomes one of the first outdoor professional sports venues to feature two 360-degree ribbon displays with the installation of upper level and suite level ribbon displays. When completed, the upper ribbon will measure more than 1,900' in length and the suite level ribbon will measure more than 2,000' in length. Both ribbons will feature 20 millimeter line spacing and measure approximately 5' high. These displays will provide the opportunity to showcase sponsors throughout events and provide up-to-the-minute statistics and game information.
Daktronics will also be including its powerful Show Control System with this installation. This industry-leading system provides a combination of display control software, world-class video processing, data integration and playback hardware that forms a user-friendly production solution.