This month, we welcome George Burciaga, CEO, elevate DIGITAL [1], Chicago.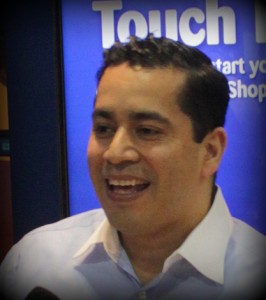 [2]
When we talked at #dse2014, [3] you said that you felt that you had the most comprehensive platform on the market. There are other companies that offer full turnkey systems. What makes your offer different?

elevate DIGITAL is the only fully turn-key interactive platform. The key difference is that we operate on a consolidated platform. Our software manages hardware, software, ad placement, timing, real time reporting and a number of other services. elevate has created and continues to develop our software and unique content to maximize its capabilities.

You pulled in $1.5 million in venture capital from Partners Path Investments last October. What has that money been used for?

elevate DIGITAL used the funds to fuel the continued platform development of the company's interactive technology offerings, as well as continue its geographic expansion with deployments in the top 30 markets by the end of 2014.

That was your second round of Series A funding. Are you looking for more investment? If so, when, from where, and what would your plans be for it?

elevate has aggressive U.S. and global expansion plans for 2014. In order to ensure we have the necessary bandwidth, we just closed an additional $3 million with SFX Entertainment [4], and will begin to raise Series B funding. We're currently searching for additional funding from VC firms across the country and engaging our board members to make strategic decisions on investment partnerships.

With considerable investment from outside, are you concerned that you and your three founding partners could lose control of the company and its direction?

I started developing the concept five years ago. My team has a clear understanding of what the cost is for growth. We plan as well as possible and trust our Board of Directors. elevate's Board and myself are in alignment on the direction of the company and support my vision and the best course of action for continued growth and development.

Have you any plans in the future to launch an IPO and become a public company?

We are now focusing on the current fundraising and projected growth. Only time will tell.

Are you developing new things in-house or are you using partners for new products, offerings or innovations?

elevate DIGITAL takes pride in developing all interactive content, apps and functionality through our in-house development teams. The elevate platform is flexible and adjusts across different types of activations. But elevate is always working to maximize efficiency and offering options by aligning with new partners.

You brought the well-known Bill Apfelbaum, chairman of Media Ventures Group [5], on to your Board of Directors a year ago. How has he helped you?

Bill has been a mentor and advisor while encouraging new partnerships. He is an amazing human being with a great deal of experience and knowledge in the out-of-home advertising industry. His extensive experience and expertise has opened doors and lends additional credibility to our efforts.

All your screens are interactive touch and/or connected with mobile, right? When you say dual screens, do you mean that they are all two-sided or that they have two screens on one side, or?

elevate's hardware can be completely customized to fit into any environment or client request. Typically, our hardware consists of a main interactive screen that houses our interactive applications and a top video screen showing looped content. The top screen provides advertiser exposure when the main interactive screen is in use. Some units are double sided and contain a large 72" interactive screen dedicated to engaging advertisements.

Do you provide creative content? If not, how do you guide people? And do you handle advertising sales?

elevate DIGITAL is a full service provider, including creative if the client requests assistance. Because we provide a new way to reach consumers, clients often seek our assistance in creating the most engaging content and making the customer experience truly engaging.

Some clients prefer to provide their own content and API for pulling information. elevate DIGITAL is also happy to work with these situations and provides creative guidance at the client's request.

elevate has recruited senior executives from the out-of-home industry to focus on growing elevate's business. We've also formed partnerships with media companies such as the Tribune Company [6] to assist with our sales efforts in specific categories or locations.

Do you have several different networks at this point? You had planned a special offering that you felt would be of particular interest to municipal governments. What is that about and how has that advanced?

elevate DIGITAL will add to its Chicago network by deploying into 40 top shopping centers in major metro markets. In addition, we'll be expanding into the Chicago airports and working with Cisco to bring our technology to municipalities across the world.

elevate has created a specific platform for cities that will change the way a government speaks to constituents. Our interactive technology will allow people to engage with comments, video chatting, city services, alerts, voting and more.

You had initially concentrated on the Chicago area. I know you are now at The Linq [7] in Las Vegas, and you said at #dse2014 that you were about to deploy hundreds of displays at one of the biggest mall providers in the U.S. in April. Tell us about that, who is involved, and other current expansion plans.

We'll announce our specific plans shortly but yes, we will be expanding into an initial 40 of the top malls throughout the country in 2014. Cisco [8] will also be instrumental in facilitating our expansion, due to the smart cities initiative and our government offering.

You are a Cisco partner because you are interested in the Internet of Things. Tell us your thoughts about it.

The Internet of Things (IoT) is a concept that has been talked about for years, but is just now making an impact. The objective of IoT is to solve problems by connecting smart devices that are empowered by real-time data, which in turn will make decisions that improve our lives. The Internet of Things will provide us with predictive data, transparency, will reduce costs and bring about a new generation of urban living.

You are also interested in Smart Cities. How do your see elevate DIGITAL's involvement?

By deploying elevate's interactive screens in high-traffic areas, cities will be able to engage their citizens in new ways. Municipalities can also demonstrate self-sustainability by generating revenue through connective advertising opportunities on the screens. The interactive screens also retain behavioral data, allowing for accurate measurement of clicks, impressions and interactions.

Interactive technology and the Smart City dream go hand-in-hand, creating new citizen experiences and driving social engagement. I'm looking forward to seeing how the Smart City will continue to develop as enabled by the Internet of Things.

You've been very active in tying into social media. What are your thoughts on how that is evolving and where you see it going, especially in relation to the digital out-of-home industry?

Social media, and mobile integration for that matter, are an important part of our offering. By allowing users to share content to social media, it creates a win-win situation for both the advertisers and the consumer. Advertisers are able to generate more impressions and reach a whole new audience when a consumer shares a piece of content, such as a photo with a branded frame, with their own networks. Then on the flipside, consumers are able to take content or information away from that interaction as well.

Integration into social media, and with mobile devices in general, allows the digital out-of-home industry to offer advertisers the opportunity to conduct a hand-off with consumers. With these integrations, the consumer walks away with a piece of information or content, while advertisers get a piece of information about the consumer.

How did you personally get involved in the digital signage sector? What were your aims, and how might they have changed

I founded smarTECHS.net [9], a Chicago-based award-winning national IT firm specializing in application, infrastructure and project management development solutions for clients in both private and public sectors.

Then I wanted to shake up the Digital Out-of-Home advertising market and change the world. By introducing interactive technology, we dramatically expand the market and provide advertisers with a new, cutting edge interactive channel through which to reach the consumer. For consumers, elevate DIGITAL provides a positive experience; working in conjunction with mobile devices to deliver the most relevant content, offers and promotions from advertisers and trusted publications. elevate DIGITAL takes out-of- home advertising to the next level.

How do you foresee the DOOH/digital signage industry by the end of 2015?

With more and more marketers incorporating interactivity, we'll see the industry push the current boundaries of DOOH interactive technology. It is not out of the realm of possibility to see new gesture-based technology or 3D capabilities make their way into digital place-based marketing soon.

In addition, integration with mobile and social media will become increasingly important. By incorporating a mobile call-to-action and providing compelling content to encourage social shares, voting, and comments, marketers are able to extend their interaction with the consumer beyond the initial point of contact. By incorporating mobile and social integration into their DOOH strategies, marketers are able to conduct a hand-off with consumers. The consumer walks away from the interactive screen with a piece of valuable information, and the brand, in return, gets a piece of information about the consumer.

Greater audience measurement will be critically important to the continued growth of the DOOH industry. Other digital avenues have seen great success by placing ads in real time with programmatic buying. Yet the DOOH industry has found this difficult to implement because it is much more difficult to measure and track audiences on foot than it is online. However, the better audience metrics the industry can produce, the better it can place ads to target an audience or even a particular consumer in real time.

And where do your foresee elevate DIGITAL by the end of 2015?

I see us owning and operating interactive networks across the country. elevate will be the leading software platform for interactive messaging and a major player with IoT.