Adrian J Cotterill, Editor-in-Chief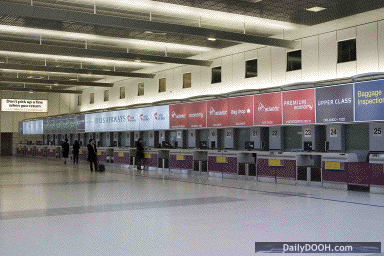 Major deals and big installs keep on coming, making this a very good start to 2008 for the digital out of home industry. We see that work has just been completed on 72 digital screens at Manchester Airport's Terminal 2 (Pixel Inspiration the folks behind the install also did a 92 screen installation in Terminal 1 last year).
We are told that Manchester Airport is the only airport in the world to have such sophisticated above check in desk technology (we can't quite believe that but I am sure someone will put us straight?).
The screens enable each desk to be flexibly branded, so that the airport can incorporate a new airline operator at the click of a mouse.
Animated promotions and passenger safety information can also of course be easily displayed.
Whilst Pixel are a Planar / Clarity / Coolsign partner we don't think they used that solution for this, we think preferring in this instance to build their own Windows based signage solution.
We know from past experience when discussing large rear projection installations (see press release below) that many of you will shout BULBS!!! It will be interesting to see / hear how many they go through. Rear projection technology has improved a lot in the last 18 months.
The whole thing by the way looks REALLY great – the picture above does not do the installation justice.
Manchester Airport Terminal 2 goes digital with signage installation from Pixel Inspiration

Airline branding, promotional content and passenger safety information gets a digital makeover on 72 screen signage installation

Pixel Inspiration, the digital signage agency, has completed the hardware installation of a 72 screen digital signage network in Terminal 2 of Manchester Airport.

The installation, which is the only one of its kind at any airport, comprises a 116 metre run of 72 individual 84" diagonal rear projection screens, coupled with 72 Panasonic PTD 5700 dual bulb projectors positioned above the check in desks.

Pixel Inspiration also works with the airport and airline operators to develop animated airline branding, promotional material and passenger safety information for display on the screens. The animated content is then broadcast on the digital displays in a large and clear format, giving operators a distinct and vibrant presence within the terminal, whilst also making it easy for passengers to find the appropriate check-in desks.

This branding approach enables Manchester Airport to maximise the use of its check-in desks, which remain flexible rather than being assigned to one single operator. The screens above those desks which are not in use can be used to display the airport's own branding and content.

To complement and enhance the architecture of the terminal building, Pixel designed, fabricated and installed a completely new hanging support system for the screens and projectors. The cantilever design provides the Terminal with a high-tech appearance, whilst also providing the necessary support and access to the Digital Signage hardware.

Last year Pixel Inspiration completed the hardware installation in Terminal 1, which consisted of 97 screens.

Jackie Neville, Head of Product Development, Manchester Airport, commented: "The delivery of flexible branding across the airport site is the result of hard work and sheer dedication by Pixel, Manchester Airport and FS Walker Hughes.


"The results are excellent and the system of branding flexibly proving very popular with the airline community. The scale and quality of airline content has created a new navigational tool, making the process of finding check in desks far simpler.

"The screens also provide a great opportunity to target passengers whilst they are queuing with essential airport information. This means we are able to reduce the amount of paper based information within the check in hall, creating a better experience."

Barry Bûgg, Account Director, Pixel Inspiration, commented: "With the continued expansion of low-cost airlines into new countries and new routes we are receiving a lot of interest from airports looking for a solution which enables them to quickly accommodate operators and generate revenue.

"Manchester Airport has recognised that an effective Digital Signage solution can benefit its business by providing complete flexibility over the utilisation of their check-in assets. It's this sort of forward thinking that makes Manchester Airport a great client to work with."

-ENDS-