Gail Chiasson, North American Editor
John Walpuck has joined Ronin Technologies Inc., Minneapolis, as Chief Operating Officer and Chief Financial Officer.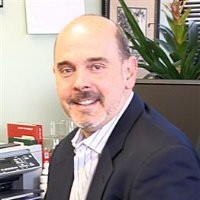 Walpuck succeeds Darin McAreavey, who resigned as CFO effective as of the close of business on April 2, 2014.
Walpuck brings nearly 20 years of diverse operational, financial and technology industry experience to Ronin. His directly related experience in the technology industry includes digital broadcasting, digital media monetization, and digital media services. He was recently COO and CFO of AllDigital Holdings Inc.., and earlier was president and CEO of Disaboom Inc., where he worked from 2007 until 2010. Walpuck's earlier career included senior financial positions with Nine Systems Corporation, TecSec Inc., Palmyra Consulting and Aftermarket Enterprises Inc.
Scott Koller, Wireles Ronin's president and CEO says, "Having the position of chief operating officer reestablished will help support Wireless Ronin's aggressive growth initiatives. In the near-term, he will be responsible for facilitating the integration of Broadcast International, a transformative merger we expect to close this quarter."