Gail Chiasson, North American Editor
The Swiss Federal Institute of Technology (École Polytechnique Fédérale de Lausanne) has acquired EKTA's WOWFloor series model iLVF 32C-i to create a special interior in one of the Swiss Federal Institute of Technology's lecture halls.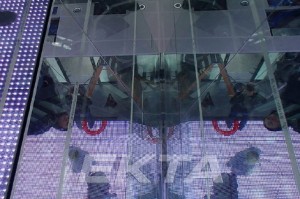 Having 32 mm pixel pitch and measuring 3.1 meters × 6.2 мeters, WOWFloor's interactivity is achieved thanks to the use of inbuilt capacity sensors allowing the visitor to interact with a vast variety of visual images displayed on the surface of the WOWFloor.
A specially designed versatile control system enables to playback feature of different visual effects, graphic arts, and full-colour video.
The WOWFloor totaling 19.2 square meters is installed in a mirrored hall that aims both to inspire future designers and architects and to conduct perspective and optical illusion experiments.
The Swiss Federal Institute of Technology was established in 1853. Today, it is one of the world's leading institutions in the field of Engineering and Computer Sciences that carries out innovative research and implements new technologies. The EPFL's main priority is to develop research basis that enables implementation of cross-study initiatives and efforts.
EKTA, located in Kyiv, Ukraine, is a specialist technology company that develops, manufactures and provides system integration of indoor and outdoor LED display solutions for a variety of markets including DOOH media, branding, sports and events, television, corporate AV, leisure and entertainment, traffic and transportation.