If you commute into London via London's Victoria train station you will soon notice Out of Home media agency Kinetic Worldwide's live ice sculpture carving, adding to what you may have seen elsewhere, in support of Carling British Cider's current OOH campaign.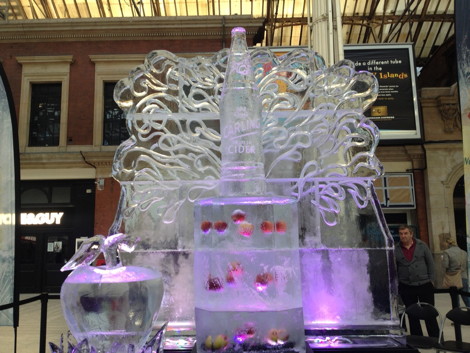 [1]
The live event allows commuters to get up close and personal with the Molson Coors drinks brand as 100ml samples are handed out from a bespoke bar, whilst a two metre tall block of ice is sculpted in to a replica Carling British Cider bottle and apple.
Steven White, Kinetic Account Manager told us "Molson Coors tasked Kinetic with creating a real impact around its Carling British Cider brand this spring so we worked with our creative hub Kinetic Active to devise a high-profile live event to guarantee consumer interaction, visibility and social media activity.
"The ice sculpture and custom-made Carling British Cider bar are sure to catch the attention of consumers and complements Carling's wider OOH campaign perfectly."
The experiential activity takes place today (April 16) and is part of Carling British Cider's wider OOH campaign, which has seen a series of 6-sheets, national 48 sheets and digital 6-sheets appear at key sites across the country.