Adrian J Cotterill, Editor-in-Chief
It's unclear to us how the news 'Mood Media Signs Major Franchise Group to New Digital Signage Solution Designed For Quick Service Restaurants' reported in Monday's WSJ, without (a) mention of a name AND (b) when it is in all likelihood an existing customer is actually 'news' at all.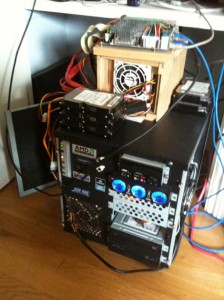 Based on the rest of the opening paragraph in the Mood Media Corporation (TSX:MM/ LSE AIM:MM) press release, we quote "the new agreement also extends its services for music and drive-thru maintenance for more than 150 locations" – implies to us a franchisee with 150 stores that ALREADY was a (Mood Media) music and service customer.
Choosing the so-called Mood product for a QSR rollout is about as 'stupid is as stupid does' you can get.
There are only a handful of QSR solutions that you ought to consider; Real Digital Media, Scala, Signagelive, STRATACACHE and perhaps one or two others.