Adrian J Cotterill, Editor-in-Chief
Those folks who arrived at #2014SignExpo a day early (Wednesday) were at least rewarded with a whole host of different things to do and see – Almo Professional A/V were invited to host their E4 AV Tour at the show and ISA Sign Expo also laid on some education for the traditional sign market.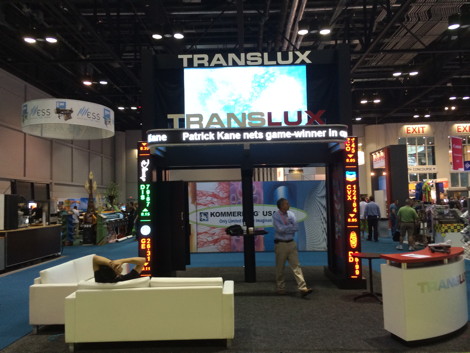 From that day-1 and day +1 of #2014SignExpo here are some random thoughts…
The pre-show day-1 education sessions were a confusing combination of E4 AV Tour events and ISA Sign Expo sessions. It was difficult to see who were AV Integrators (supplied by Almo) and who were sign guys
The Brawns, in the guise of Alan and son Jonathan were mighty impressive in all of their education sessions on day-1
We don't think that Almo Professional A/V will be co-hosting a tour in 2015 with ISA. It just didn't work for them (it seemed very lightly attended)
Almo Professional A/V seemed to have a bad show all round. Their booth was empty a lot of the time. The real booth winner in the Dynamic Digital Park was Glantz Dynamic Solutions who were packed all the time
Glantz Dynamic Solutions had a small 10×10 last year but must have seen good results because they had a much bigger presence this time around
You could walk the Dynamic Digital Park in five minutes and 23 seconds (we timed it). You look at who exhibited and you have to believe that Samsung Business USA funded a lot of the exhibition space
Watch out in 2015 for Samsung to ditch their own booth and co-locate with Glantz Dynamic Solutions (the Samsung booth was as empty as Almo's)
#2014SignExpo for folks in our world is easily a fly in and fly out in one day kind of event. Apart from the tiny Dynamic Digital Park there were maybe a dozen LED vendors on the main show floor (just over half of those being Chinese – Daktronics, Watchfire, YESCO and a couple of others being the main exceptions)
STRATACACHE had a stand last year but not this year
San Francisco based print giant EFI were showing a facial recognition system dubbed EFI Smartsign Analytics that looked a lot like Quividi, EFI refused to say whose it was but knowing the background of the company it was probably (somehow) Trumedia related
We won't name them but we spotted a least half a dozen individuals from screen manufacturers and digital signage software providers walking the show floor – all with a view, they told us, of whether or not they should exhibit in 2015. I believe that the majority of them will decide NOT to. It will be interesting to see
On the whole, the LED Vendors stands were awful. Most of them playing PIXAR movies (there were some exceptions)
The TransLUX LED stand was the best in terms of design and content
Nice to see both industry association heads, Kim Sarubbi (DSF) and Paul Flanigan (DSA) glad handing people at the event
DSF had a booth and of course via Brawn Consulting were involved in much of the pre-show education
We have to mention the Press Lounge. Truly awful. Nice lady manning it, nothing in it though but cafeteria style tables and chairs, some soft drinks BUT no INTERNET ACCESS. Not sure what sort of press people normally cover these print / sign events but we've been to VISCOM and seen much, much better (I am filing this story outside The Capital Grille, Pointe Orlando borrowing free WiFi from said steak house whilst perched on a hot stone wall)
For us personally, #2014SignExpo has so far only 'slightly' been worth a visit, the event continues until Saturday.