Gail Chiasson, North American Editor
The Digital Signage Federation, independent not-for-profit trade organization serving the digital signage industry, has lunched its 2014 Advocacy Program, which will deploy Board volunteers to speak at industry events to promote the digital signage industry beginning this Spring.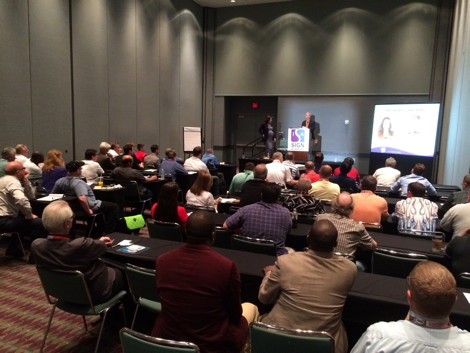 Two who have already done so are 2014 DSF chairman Kim Sarubbi, president of Saddle Ranch Digital, and DSF Board member-at-large, Steve Hargis, director of Film & Video for Bass Pro Shops, both of whom presented recently at #2014SignExpo (shown above). They spoke on the advantages of digital signage and best practices for integrating it into their business models, and offered educational information to help the traditional sign industry practitioners enter the DS industry.
At UBTech 2014 – DSF Board member-at-large, Spencer Graham, manager operations, information stations and interactive video network, West Virginia University, will reprise his presentation 'How to Use Digital Signage for Increased Effectiveness in Higher Education' on Tuesday, June 17.
"We are committed to offering proactive educational support across business categories," says Rich Ventura, chairman of the DSF Advocacy and Outreach Committee, and vice-president of product marketing and solutions operations, NEC Display. "Advocating on behalf of the digital signage industry is central to the Digital Signage Federation's Mission to support and promote the common business interests of world-wide digital signage."
DSF Board members at events will also be available to answer questions about benefits of membership in the Digital Signage Federation and invite end-users to use free DSF In-Forum RFP Service to help expedite planned installations.