Gail Chiasson, North American Editor
Moment Factory, Outremont, Quebec, has created a multimedia installation for Oakley's new flagship store on 5th Avenue in Manhattan, which opened officially on May 1, 2014.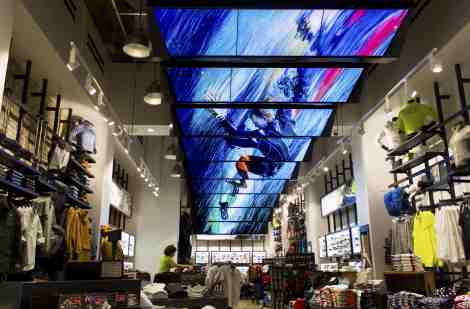 The studio's concept had to successfully fit within the architectural design of the store, while also expressing the brand's strong connection to technological innovation. The store's long and narrow footprint created opportunities to explore movement and create a coherent visual impact over a long distance.
Retail operations were also a key consideration in the design process: with a ceiling mounted installation, all valuable wall and floor space is available for sales and merchandising.
Moment Factory is a new media and entertainment studio specializing in the conception and production of multimedia environments combining video, lighting, architecture, sound and special effects to create remarkable experiences. With over 300 achievements since its founding in 2001, Moment Factory has developed a special methodology in the production of multimedia experiences. Productions span the globe and include such clients as the Los Angeles International Airport, Cirque du Soleil, the LIGHT at Mandalay Bay, Disney, Sony Pictures, Microsoft, Nine Inch Nails, Madonna and the NFL.
For Oakley, the installation's physical design took inspiration from the exterior storefront architecture – featuring large pleated metal components. And in the long narrow space, 27 LCD screens arranged in rows of three are incorporated in fragmented forms suspended across the length of the ceiling. The shifting angles and surfaces result in anamorphic tricks – playing with perception of the installation in space and the decomposition of the video surface.
Moment Factory's expertise in permanent installations was key in terms of developing an evolving visual landscape. Content is divided into four capsules, running in alternating patterns and rhythms according to store hours and activity on 5th Avenue. Within the media-saturated context of Manhattan, the capsules are designed to draw in customers from the street, revealing complex layers as they experience the installation from a closer perspective. Rolling transitions merge footage of Oakley's performance athletes with a visual language developed entirely by Moment Factory.
With an international team of 16 people, in collaboration with respected Brooklyn-based digital fabrication studio SITU Fabrication, Brooklyn, N.Y., and Fulkra, technology integrators from Los Angeles, Moment Factory has demonstrated its creativity and expertise in creating leading edge multimedia installations.