Adrian J Cotterill, Editor-in-Chief
Over 160 people registered for our last 'Employee Communications' Thought Leadership Summit (and we had a dozen people on the wait list as well!).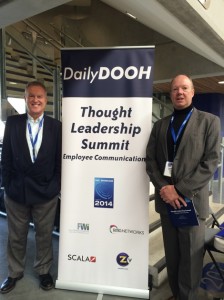 The topic of Employee Communications is most definitely a hot one at the moment and so should definitely be of real interest to our digital signage industry.
As  we promised before, it's a 'vertical' that we said we would definitely visit again.
We are therefore pleased to announce that we have now firmed up two new events…
Digital Signage for Employee Communications, One Drummond Gate, Victoria, London, on October 8, 2014
Digital Signage for Employee Communications, Manhattan Room, TKP Conference Center, New York,  October 23, 2014
The latter of course is part of New York Digital Signage Week.
Registration for the NYC event will be open shortly!