Adrian J Cotterill, Editor-in-Chief
The organisers of DSE, who have no doubt been struggling with the growing number of exhibitors that are either sub-letting or sharing their exhibit spaces with other companies have finally cracked down on the practise in time for #dse2015.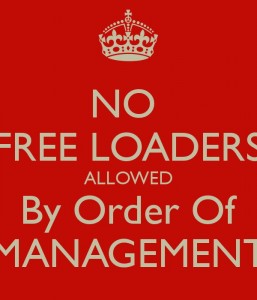 In a letter which went out to exhibitors in April, Chris Gibbs, President & COO, Digital Signage Expo made it clear that the "practice is strictly against DSE's show rules and violates the contract that all exhibitors have signed".
Of course, excessive 'partnering' (sometimes called 'freeloading') undermines the event and is surely unfair to the majority of exhibitors that follow the rules. In our opinion, DSE have taken a good stand here, aiming to protect the integrity of the marketplace that the event helps creates each year.
A new contract states that "Exhibitors are not permitted to assign or sublet a booth or any part of the space allotted to them by the space rental agreement. Nor shall they exhibit, or permit to be exhibited in  their space, any merchandise or advertising materials which are not part of their company's regular products or services."
Whilst this may take care of the leaches who usually hang around with folks like Intel and Samsung, we are actually unsure whether or not the 'Samsung Partner Pavilion' will be allowed to continue (we'd assume not). The new rules will also adversely affect Scala. who we think are one of the good guys caught up in all this, and it will be interesting to see Scala's reaction. 
Scala always have a large 'partner' presence on their stands the world over (that is in effect what makes Scala, 'Scala' if you know what we mean) so we'd fully expect Scala to rethink their presence at any event that denies them that opportunity.
The organisers obviously have no objection to 'partnering' as long as said 'partners' are also (standalone) DSE exhibitors.