Late last week Titan Outdoor announced that it has won the advertising contract for Chiltern Railways – effectively giving them overground control of Marleybone station from rivals CBS Outdoor.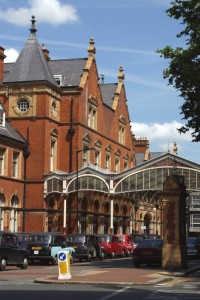 Bearing in mind what a great digital job Titan have done with other overground mainline railway stations in London (especially Victoria station) we are assured that we will see a great digital implementation here as well.
The contract, which starts in April 2009, was won in a competitive pitch and is worth approximately GBP 13m over the next six years, with the option to extend for a further two.
This contract adds to Titan's existing rail portfolio of Network Rail and nine Train Operating Companies (TOC's) including South West Trains, Southern and Virgin Trains and London Marylebone completes Titan's management of advertising at ALL London termini stations.
Titan's Chief Executive Jon Slatkin told us"We are delighted to have won this exciting new contract, further reinforcing Titan's dominance as the premier provider of rail advertising. Research tells us that rail stations are one of the most powerful out-of-home environments for influencing desirable consumers and the addition of Chiltern Railways means we are reaching even more of these consumers than ever before*"
The addition of Chiltern Railways brings Titan's rail audience to 87% of the UK's 1.2 billion annual rail journeys.
Advertising at Chiltern stations currently includes 4-sheets, 6-sheets and 48-sheets. Titan's development plans include introducing the digital opportunities of Transvision and D6 sites, as well as premium backlit formats Limelight and Spotlight.
* source: Connected Research 2007