Adrian J Cotterill, Editor-in-Chief
@YahooTech editor @gilbertjasono (Jason O. Gilbert) reports that at the White House's first ever Maker Faire on Wednesday, startup Changing Environments showed off the Soofa, a bench that can charge your cellphone using the solar power it collects throughout the day…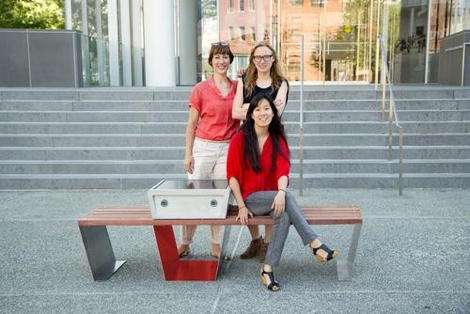 The team behind the Soofa (from left to right) Jutta Friedrichs, Sandra Richter, and Nan Zhao sit on their solar powered bench (picture credit: Soofa)
The USD 3,000 bench has a box with a built-in solar panel and two USB ports that allow you to charge your phone (not yet an iPad allegedly) according to Yahoo Tech.
Interestingly, especially in terms of IoT, the reports says that Soofa isn't just about phone charging – it also contains noise and air sensors that constantly collect data and send it over 4G to Soofa's website, which lets people know where there is an available bench (and it says "in a quiet location, with fresh air").
The first benches were paid for by Cisco Systems and thus far, 10 benches have been installed in Boston.