Adrian J Cotterill, Editor-in-Chief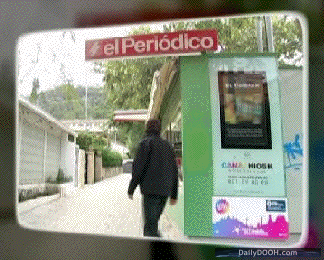 This is the second exclusive and the second start of quite a large network in Spain that we have reported on in the space of a week now. The Spanish market has looked like it was going to get quite interesting for some time now – we have the Wututut product launch this week at Screen Expo as well of course.
Barcelona Newspaper stands will be the first in the world to host a 24-hour Interactive Advertising Channel with more than 700 locations around the city – this is similar to ComTechM2M's Newspaper solution in the UK reported as "Freddie Starr Ate My Hamster".
Admira Digital Networks has partnered with Hermes Publicidad and SIT Mobile to launch what is called "Canalkiosk Urban Interactive Networks"
The whole network will actually go live in March 2008 – it should reach 2 million city residents and up to 6 million visitors
The network is cited as having Wi-Fi, Web 2.0, and Bluetooth mobile interaction (the Bluetooth is a waste of time, the Wi-Fi is excellent and we would be very interested to see what the Web 2.0 reference is – some social networking / interaction we expect.
They say with regard Bluetooth…
"People with Bluetooth-equipped mobile phones will be able to download information from the network such as music, videos, games, screensavers, and coupons free of charge. The network will also enable the audience to upload user-generated themes and SMS messages to the network, making Canalkiosk completely interactive. The digital signage circuit will broadcast information on public services, news, culture, fashion, entertainment, sports, tourism, technology, education, cuisine, and the environment".
Technology partners include Philips, Fon, SITmobile, and Admira Digital Networks. Philips has equipped each newspaper outlet with a 42-inch LCD monitor.
About Admira Digital Network:

Admira Digital Networks – www.admiradn.com is playing a crucial role in the evolution of the narrow casting in Spain and its international division has closed new deals with partners in various countries. Admiralo.com is an award-winning software solution that powers numerous narrow casting circuits and enable organizations to have more meaningful interactions with their customers, employees and prospects. Its current customers include: Media Markt, FNAC, Mas y Mas, FORUM, Manos Unidas, City of Mataró, Forum de Barcelona, Canal Metro and Incasol.

Admira Suite is a "state of the art" web enabled software solution for digital signage circuits. It offers all of the functions and technical capabilities for the creation, publishing, emission and control of DDS circuits. This unique collaborative solution targets narrowcasting professionals, advertisers, multi-media content creators and managers of POS circuits.

Admiralo.com delivers all of the functionalities of a "video posting" portal and covers all of the advertising and content management needs for narrow casting circuits. The Admiradn.com software can be tested without any initial setup cost, and is proving to be a great competitive advantage. In addition, the newest version is proxy friendly, and has automatic scheduling and dynamic templates.