London Digital Signage Week will take place April 30 – May 4, 2018 and as with its counterpart in New York [1], the week is for anyone in digital signage; interested in retail, employee communications, smart cities, digital out of home and of course digital signage!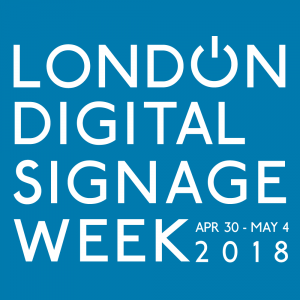 [2]We like to remind people, especially the out of home folks, that without Digital Signage there would be no Digital Out of Home. London Digital Signage Week has fast grown into a 'week', very similar to London or New York Fashion Week, with more than just a handful of events, aimed at attracting a mix of advertisers, media owners, network operators, manufacturers, integrators, agencies, software developers, investors and more, in order to meet up, network, learn, and do business.
Those who have attended some of the events during past weeks have said that they have always wished to be part of something 'bigger' than a single one day conference or 'trapped' in an exhibition – this week of course, is their chance to do exactly that!
As we've pointed out before, both the Fashion industry and the Advertising industry have their own 'weeks' where they "celebrate themselves". Advertising Week Europe, described as a "hybrid of inspiring thought leadership" and "featuring the world's best and brightest" has been running for many years now and is surely a model that the digital signage and digital out of home industry must continue to aspire to.
As London Digital Signage Week continues to gain traction we hope that once again, we can prove that #LondonIsThePlaceToBe.
Click here to see all of the events that took place in 2017 [3].
#LDSW
Early heads up on events; Monday April 30; The Official Launch Party at TRAMP nightclub, a possible OOH Creative Council workshop earlier that afternoon and the usual Beaver Group / Google Digital Signage Masterclass, Tuesday sees our second ever Global Digital Signage Conference [4], Wednesday sees us use BAFTA again for The European Out of Home Media Summit and Thursday sees a full day European Out of Home Automation & Programmatic Conference [5]. We're also hoping for some Future Cities Catapult activity, a Women in AV networking events Raspberry Jam and more – oh and look out for a very special Dragon's Den / Shark Tank style event as well!!