Gail Chiasson, North American Editor
David Sable, Y&R's global CEO will be keynoting the annual Digital Place-based Advertising Association #VideoEverywhereSummit being held Nov. 3 during New York Digital Signage Week.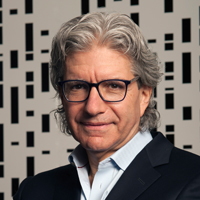 Sable believes that the core of Y&R's business is about striking a balance between creativity – the storytelling we do – and innovation, which drives the story through the right channels to create new consumer experiences. He sees the greatest competitive differentiator to be the agency's ability to create a complete experience for consumers that bridges the digital and physical worlds. While digital is everything, not everything is digital, and Y&R is eminently positioned as storytellers and innovators.
Sable is scheduled to speak mid-morning at 11 a.m. after the first coffee break.
Following breakfast and registration beginning at 8 a.m., the Summit will get rolling at 9 a.m. with a short introduction and then a talk on 'Multi-screen Viewing and Engaging with Consumers Everywhere They Want to Be' by Chris Curtin, chief brand and innovation marketing officer at Visa.
Curtin will be followed by a session moderated by Stuart Elliott, ad columnist of Media Village in which Rishad Tobaccowala, chief strategist at Publicis Groupe, and Lori Hiltz, CEO of Havas Media, will give their views on the changing agency business.
What should be a fun session will follow Sable's keynote when Cat Greenleaf, host of Talk Stoop and a regular at the Summit, will interview Jane Maas, author and chairman emeritas of Earle Palmer Brown discusses what life was like when she worked in the agency world of the real 'Mad Men' in a session titled 'Mad Women: The Other Side of Life on Madison Avenue in the 60s and Beyond.'
Then, in the hour before lunch, a session based on the Shark Tank format will see an invitation-only forum where 'Sharks' will assess new technologies that promise to connect mobile/locations with digital place-based. Each technology will be briefly presented and then reviewed in a friendly and informational manner by the DPAA-assigned Sharks.
A networking lunch from 1 p.m. to 2: 15 should also give more time to stroll the exhibit area.
After lunch comes a talk on digital place-based activation with real world case studies with Sandy Kolkey, chief marketing officer, Turtle Wax, and Scott Halderman, director, digital and integrated media solutions, Teas and Flavors, Pepsi Beverages North America.
We'll look forward to David Roth, CEO of WPP The Store taking over at 2:35 pm on the 'Future of Retail, IoT and the Digital Place'.
After the second coffee break of the day, there'll be a Ted-type talk on Advertiser Hot Topics with Fernando Arriola, vice-president media and integration, ConAgra Foods, and Benjamin Jankowski, group head, global media, MasterCard.
We'll be interested to hear 'The Great Debate: Video Agnostic' where media leaders will take sides on the resolution: 'Video advertising should be treated screen agnosticly, and valued equally whether it is viewed on a tablet, phone, PC, TV, DPB screen or other device – To viewers the screen doesn't matter.' Moderator will be Dave Morgan, CEO and founder, Simulmedia. We don't know all the debaters yet but one is expected to be Steven Wolfe Pereira, vice-president brand strategy and marketing solutions, Oracle.
And yes, at 4:45 pm to 5:30 pm to close out the day will be that topic on everyone's lips: 'Programmatic: The Way Forward for Digital Place-based' with panelists Jim Mollica, vice-president, digital marketing, Under Armour; Dave Yacullo, CEO and president, Outdoor Media Group; Alan Smith, chief digital officer, Assembly, and moderator Matt Prohaska, CEO, Prohaska Consulting.
All in all, it looks like it will be a full day of important topics and interesting speakers. More information can be found here.