July 29th, 2014
Outdoor Plus has introduced two new premium UK digital sites as it continues to grow its coverage in and around the heart of London.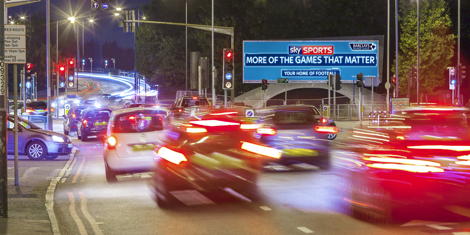 The two new sites, A41 Hendon Way, and Purley Way Fiveways (shown above), were unveiled on Monday July 28 with Sky, IKEA and Audi among the advertisers who had booked campaigns.
Outdoor Plus has introduced a brand new site, the A41 Hendon Way, which will be seen 650,000 times by ABC1 commuters every fortnight. The site is next to a major arterial junction, which connects London's commuter belt with the A41 and the Brent Cross shopping centre slip road
Outdoor Plus has transformed its site at Purley Way Fiveways, introducing a state-of-the-art digital screen. It's the first large digital screen people will see on their way from Gatwick into London, and it's close to the retail hub around Purley. The only digital screen in the area, it's within sight of the IKEA towers and it's fitting the retailer will be among the first advertisers on the screen when it launches. Sky is also advertising its Summer of Sport campaign on the site from launch.
Jonathan Lewis, managing director at Outdoor Plus told us "We're continuing to add to our network, giving brands access to the best sites in and around London, allowing them to tap into upmarket commuters as well as people working in the heart of London. We're confident the two new sites will be very popular with our existing clients, and with new clients."
Barry Louth, head of media planning at Sky, said: "Our Summer of Sport campaign is designed to attract new customers by reminding them that Sky has the most comprehensive sports coverage in market. The site at Purley Way Fiveways is one of the highlights across the plan and the location injects premium quality as well helping us reach a broad audience."
In April, Outdoor Plus also introduced a brand new digital site in East London, on the A12 Cross Route targeting a City audience.
Over the past 12 months Outdoor Plus has grown from a fledgling media owner into a major player in iconic roadside digital with enviable distribution across the capital.
The company also announced it would invest GBP 10M across 2014, not only in new sites, but also in new ways to engage audiences while they're out of home.