July 21st, 2015
Rumour is that there are a number of new Storm (Clear Channel UK's premium digital brand) sites launching in London and nationally between now and the end of the year and here's confirmation of three of those in Billingsgate, Lambeth and Shoreditch.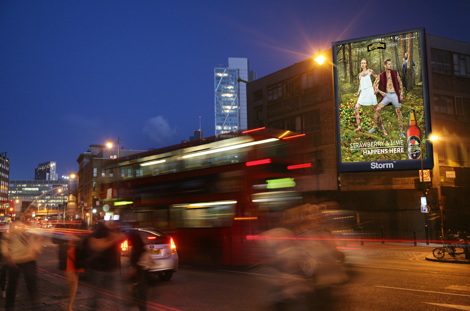 The Billingsgate screen is located in front of Canary Warf and reaches major traffic flow from East London towards Docklands, The City and Central London, as well as residents of the vibrant Tower Hamlets area. The site features a stunning bespoke 'fish scale' design which appears to shimmer in the wind, paying homage to the famous Billingsgate Fish Market nearby.
Also launching is Storm's Lambeth Palace Road screen, located next to Lambeth Palace and in close proximity to Westminster and Parliament, which brings a digital large format opportunity to the area between Vauxhall and Waterloo, targeting Southbank and the London Eye. The Lambeth Palace Road site has been developed in close partnership with Lambeth Council and Guy's and St Thomas' charity as part of an effort to enhance the urban environment. The Lambeth Palace Road site features a unique wooden design – what we believe to be the first of its kind in the UK. The site incorporates a planting system and walkway designed in conjunction with the Old Paradise Yard, a project led by EAT WORK ART who regenerate previously derelict spaces into innovative communities for creatives. Old Paradise Yard will be maintaining the planters with seasonal plants, shrubs and vegetables and the site itself has been designed as an extension of existing community gardens. The new Lambeth Palace Road site design complements the surrounding area and has been created to rejuvenate a space that has been the target of anti-social activity in the past.
Storm's Shoreditch screen, located in the heart of East London on Shoreditch High Street, targets traffic flow towards Liverpool Street and offers advertisers the opportunity to reach a valuable audience of young and trendy urbanites in the area. A stone's throw from Shoreditch Station, bordering Bethnal Green, Brick Lane and Spitalfields, the new site is in close proximity to fashion and socialising hotspots in Shoreditch as well as famous Tech City and pop-up mall, BOXPARK.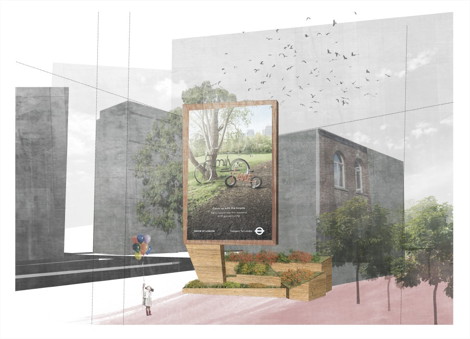 Aimee McKay, Managing Director at Storm, told us "We're delighted to be launching the latest London Storm sites in Billingsgate, Lambeth and Shoreditch. I'm particularly proud of our collaboration with Lambeth Council and Guy's & St Thomas' charity to revitalise the area. Storm is the UK's most flexible and creative digital Out of Home media owner and these are the first of many announcements, as we will be rapidly expanding our nationwide network soon – watch this space".
These additions bring Storm's current portfolio to twenty – nineteen of which are in London.