Gail Chiasson, North American Editor
If you have anything to do with the retail sector in terms of digital marketing, retail design or information technology, the Retail Evolution Summit, to be held in San Francisco Feb. 17-19 should be on your calendar as a not-to-be-missed event.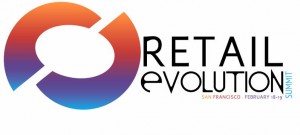 The Retail Evolution Summit is an educational gathering of marketers, designers, technologists and digital innovation leaders from key fashion, beauty and lifestyle brands.
For those who are involved in creating or implementing interactive store experiences and the OmniChannel journey, this is a tremendous opportunity meet, hear and interact with industry thought leaders to share insights on the future of retail.
The interactive forum on Wednesday, Feb. 18, and Thursday, Feb. 19. combines an exciting speaker lineup of retail design thought leaders, among them: Lee Peterson, David Kepron, and Todd Hale. A welcome reception is being held the evening of Feb. 17.
Attendees will also have plenty of time for sharing successes and networking by participating roundtable discussions focusing on the OmniChannel journey, store design, consumer behavior, retail analytics and more.