March 24th, 2015
Gail Chiasson, North American Editor
Digital signage software specialist Navori Labs, Montreal, has helped the YMCA of Greater New York establish a multi-layered and universal communications strategy across its 26 locations, leveraging a powerful, multi-user Navori QL digital signage engine for corporate and campus messaging.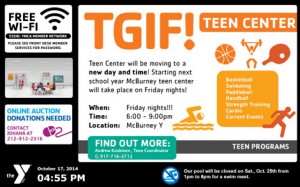 The YMCA of Greater New York turned to Navori Labs' QL solution after experiencing limitations with its previous digital signage system, which was challenging and expensive to grow beyond a few locations. The transition to Navori Labs' web-based solution gives the organization an infinitely scalable out-of-home network that provides local control at each location, and the ability to deliver content across Windows and Android platforms.
Karl Christianson, IT systems manager for YMCA of Greater New York, notes that QL's multi-user design has strengthened the organization's ability to disseminate both company-wide and local information. The quick learning curve ensures that all branches can expediently create and deploy content relevant to local staff, members and visitors, sharply reducing the costs and labor associated with printed materials. A robust user permissions feature ensures that staff at each location has access to their local players, while IT and administrative staff can access players across multiple sites.
"A main focus of ours in IT is to support marketing and communications as quickly and efficiently as possible," says Christianson. "Turnaround time is highly important, and we simply could not achieve our goals before transitioning to Navori Labs. The QL solution eliminates the support headaches, from hardware and software compatibility to overall content management. Additionally, its web-based architecture completely obliterates the need for end user support across installations and training at local branches. We no longer have to concern ourselves with installing specific software components on every end user's workstation. The ability to walk into a new location, plug in a player and be live on the network is very appealing."