June 29th, 2015
Adrian J Cotterill, Editor-in-Chief
It's the 'Season' don't you know and that means in the UK at least we have Wimbledon starting this week and for DailyDOOH Towers our very own Henley Royal Regatta (Weds thru' to Sunday so don't expect too many posts).
In time for Wimbledon, British number 1 and World number 3 tennis player Andy Murray OBE has sent a message to nine million Londoners via Outdoor Plus' #Message2London campaign previously described here.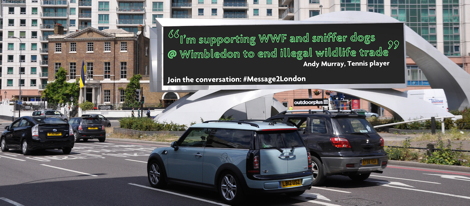 Murray's message which was "I'm supporting the WWF and sniffer dogs @ Wimbledon to end illegal wildlife trade" was broadcast across all 14 of Outdoor Plus' London sites early on Mondaytoday.
Digital OOH is proven to accelerate social media activity, and Outdoor Plus has taken private messaging to a whole new dimension. Their 'tweet on the street' will reach more than nine million Londoners every week – all amplified on social media with the twuitter hashtag #Message2London.