November 19th, 2014
Gail Chiasson, North American Editor
Opening Ceremony and Intel Corporation have taken the wraps off the complete features of MICA, My Intelligent Communication Accessory, the smart and fashionable luxury accessory that redefines the concept of wearable technology.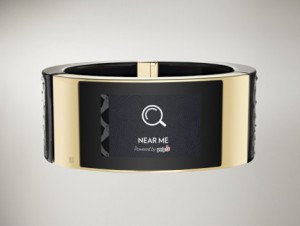 MICA is an intelligent bracelet that provides today's highly connected woman with access to text messages, Yelp, Gmail notifications, Facebook events and Google Calendar through discreet notifications delivered directly to the wrist.
The attractive feminine communications accessory will be available by early December in the US and will retail exclusively at Opening Ceremony New York and Los Angeles, select Barneys New York locations, and online at Openingceremony.us and Barneys.com.
"Our pioneering collaboration with Opening Ceremony and the introduction of this category-defining smart jewelry piece advances wearable technology as a distinctively stylish accessory that places importance on both aesthetics and functionality," says Ayse Ildeniz, vice- president and general manager for business development and strategy, New Devices Group at Intel. "MICA captures Intel's philosophy that technology should enhance jewelry in order to make wearable technology truly 'wantable,' in addition to seamless and productive."