April 28th, 2016
Gail Chiasson, North American Editor
Cieslok Media has partnered with Tangled Art + Disability, a not-for-profit art and disability organization located in the City of Toronto.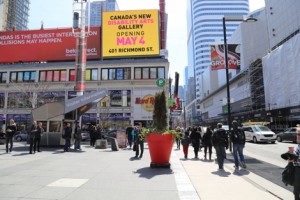 Cielsok Media's network of premium digital displays will be used to create awareness of Tangled initiatives, including the grand opening of their new accessible art gallery taking place at the end of April. For the past 15 years, Tangled Art + Disability has been cultivating disability arts across Canada by developing artists, exhibiting disability art in Toronto, and touring disability art across Ontario.
Jorg Cieslok, CEO and president of Cieslok Media, says, "Supporting art initiatives is something we are truly passionate about at Cieslok Media. We know art has the ability to make a positive difference in the community. Our partnership with Tangled Arts allows us to create awareness around their projects and amplify their message about disability art through our digital signage network."
"Cieslok Media has been a real champion of the arts," says Katie McMillan, director of operations at Tangled. "This partnership will help to cultivate awareness around accessible arts practices, promoting inclusion in Toronto's arts and culture sector, while significantly increasing visibility of disability arts."
Cieslok Media is a proud supporter of the arts, supporting local art organizations, such as Toronto Art Foundation, and now, Tangled Art + Disability. On May 4th, Tangled will open Tangled Art Gallery, a public art gallery dedicated to showcasing the best of Canadian disability art and advancing accessible curatorial practices in exciting, innovative ways.