Grassfish have announced a substantial upgrade for their core CMS platform with the release of version 10. It provides a completely revised user interface for the browser-based system. The work was focused on the changeover from Flash to HTML5 in order to be optimally equipped for future technologies and further expansion.
In addition, V10 comes with a whole series of improvements designed to increase efficiency and usability. By introducing an HTML5 architecture, a marked improvement in the performance of the entire system has been achieved. This is most apparent in the case of very large networks with lots of screens and content.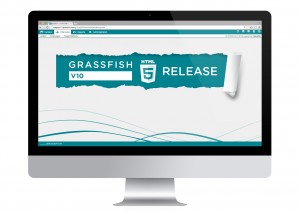 HTML5 is not the only a focal point of the user interface; it is also becoming the new standard for the content media used. The HTML Wizard expands the functional scope of V10 by a framework that also enables users without any HTML knowledge to edit HTML content and interactive HTML applications, to exchange media and texts and to change the properties of HTML applications. This feature too is characterized by usability improvements that were given top priority during the development of the new version.
The highlights of Grassfish software V10 include: –
HTML5 framework gives a faster version with higher performance
Higher performance with regards to large data volumes
New player software for better performance, picture quality and transitions
Higher efficiency thanks to continuous improvements made during the development process
Improvements in usability
An HTML Wizard feature for the editing of HTML content and applications
Also new is the use of a player technology, which thanks to its multi-platform base, offers better performance, picture quality and transitions, and the same functional scope of the Grassfish player is supported in both Microsoft Windows and Linux operating systems.