Adrian J Cotterill, Editor-in-Chief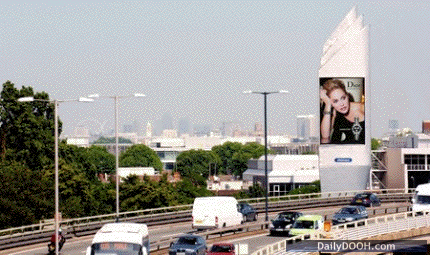 For more proof that the outdoor media owners in the UK are serious about digital look no further than this announcement from JCDecaux that by April 2008 London will have another 20 LED billboards!!!
As we have told you before, in the US both Lamar and Clear Channel are converting 30 traditional billboards to digital EACH month so it's not up to that scale yet but it is a big vote of confidence for digital. If you have heard us speak recently or read in a couple of press articles you will know that our views on (city) 'visual clutter' mean that we think traditional billboards will generally reduce in number to be replaced by a fewer number of digital display faces.
This order for Daktronics billboards (Daktronics supplied the sole giant screen at the end of the hall at Screen Expo Europe and the two giant screens at JCDecaux's Torch on the M4 motorway approach into London) is in this instance though a 1:1 swap out, all in London of existing scrollers.
The LEDs will be 19-ft.-wide x 9-ft.,6-in.-high.
Daktronics are also providing 'full-service operation' through its Network Operations Center, which they say will offer network programming, monitoring and display control.
From JCDecaux http://www.jcdecaux.co.uk/news/
05 February 2008

In the largest deployment of roadside digital screens in Europe, JCDecaux the UK's leading outdoor advertising company will launch 20 digital billboards from 24 March in prime locations in central London.

JCDecaux has signed a partnership agreement with Daktronics, a global leader in electronic display signs, for the installation and maintenance of the state-of-the-art screens. The new PrimeTime billboards will provide advertisers with the best digital outdoor display in UK roadside, with an unparalleled quality of product and colour clarity. Measuring 6m wide by 3m high, the screens offer true colour high definition display using the same proven LED technology as the JCDecaux Torch.

All advertisers taking national 48-sheet poster campaigns will automatically have their creative uploaded across all 20 digital billboards. Multiple messaging and time-sensitive copy changes will be possible. An ad will be displayed 60 times an hour and over 20,000 times in two weeks. For advertisers wanting to buy the network outside a national pack, the ratecard for advertisers targeting London only with PrimeTime is £40,000 for a 2-week campaign.

Daypart solutions will also be available including a morning and evening drivetime, daytime and nighttime slots. Spencer Berwin, Managing Director of Sales at JCDecaux said, "These PrimeTime billboards are light years ahead of any other roadside digital screen in terms of quality and vibrancy of colour, and crucially use tried and tested technology. The network will deliver an audience of 4.8 million Londoners in two weeks – that's the same as 16 days circulation in the Evening Standard."

David McEvoy, Marketing Director of JCDecaux said, "This network will revolutionise the ability to communicate on the streets of London. The PrimeTime billboards will enable our clients to reach highly mobile audiences at the right time and in the right mindset. This is a journey JCDecaux began with the digital Torch and that is now being extended to our billboard portfolio." Locations of the new billboards include Waterloo Bridge, Tottenham Court Road, Cromwell Road, Edgware Road and Western Avenue.