Gail Chiasson, North American Editor
Out-of-Home is outperforming other media, and the connection between it and mobile will continue to drive the OOH and Digital OOH forward, Jeremy Male, chairman and CEO, OUTFRONT Media, New York, told the 100+ attendees in his keynote address at the The DailyDOOH Investor Conference Nov. 4/15 during New York Digital Signage Week.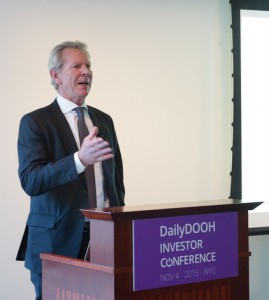 "OOH has staying and growing power," Male said, noting that Apple spends nearly 12.9% of its advertising budget in OOH, and other huge spenders include companies like Google, Netflix, Chevrolet, Budweiser and AT&T, among others.

"With Apple, it's all about the branding statement it makes using OOH," he said. "But the top US advertisers are still over-investing in TV. As they see TV viewing fall, OOH and DOOH should catch those advertising dollars. It's a real opportunity for the industry.
"We're going to see an increased deployment of screens. WiFi and mobile will help with connectivity to DOOH screens, and apps will be part of the picture, as well." Another opportunity he sees for the industry is geo-fencing.
"Data is also reshaping the industry," he said. "We've been doing data research and discovering things. For example, we looked at the luxury market with people buying and discovered that yes, they spend, but they are maxing out their credit cards. We're also looking at things like travel data and mobile data, and this sort of information is important as we go forward."
Male noted that the UK has the biggest deployment of digital screens, with a forecast of 45% of all OOH there being DOOH by the year 2020.
Male said that OUTFRONT Media is turning its own screens into Smart Screens with use of a Videri device, and that the company should be be rolling out that piece of hardware / software to as much of its real estate in North America as possible.
OUTFRONT Media also released its own Q3 report during the week (see separate article), showing revenues of $386.7 million, up 14.9% on a reported basis.