The National Center for Missing & Exploited Children (NCMEC) and Clear Channel Outdoor Americas – Los Angeles (NYSE: CCO), a subsidiary of iHeartMedia Inc., has launched a new month-long digital billboard campaign across the Los Angeles, CA region timed with National Missing Children's Day, calling attention to the ongoing searches for local missing children. The digital out-of-home campaign underscores the plight of missing children everywhere and this local effort features four missing children from Southern California.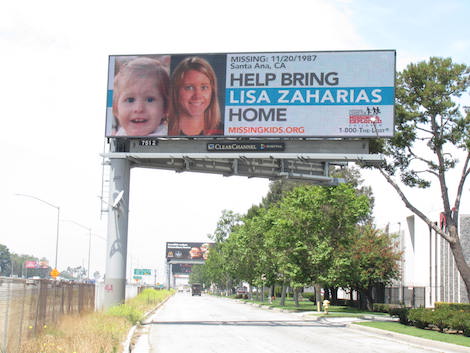 Beginning May 25, 2017, CCOA will broadcast last seen, and age progression, images of Alexander Riffenburg from Palmdale, CA; Crystal Tymich from Los Angeles, CA; and Christopher and Lisa Mae Zaharias from Santa Ana, CA; on the company's digital billboards throughout Los Angeles and Orange County. The donated billboards direct the public to call 1-800-THE-LOST (1-800-843-5678) with any information concerning the disappearance or current whereabouts of these local children.
This latest initiative builds on NCMEC and CCOA's 2015 national 'Summer of Hope' campaign, which reminded parents never to wait 24 hours to report a missing child. The country is in the midst of a persistent missing and exploited children crisis nationwide. According to the FBI, in 2016 there were 465,676 National Crime Information Center (NCIC) entries for missing children. Similarly, in 2015, the total number of missing children entries into NCIC was 460,699. In the state of California, there were 1,437 children missing who were intaked by NCMEC in 2016.
Across Los Angeles and Orange County, CCOA's donation of its digital inventory enables NCMEC to reach millions of people across Southern California where images will be displayed for a month. Locations of the billboards which feature the four missing children's photos include high-traffic areas such as the Santa Monica and San Diego Freeways.
Los Angeles County Supervisor Hilda L. Solis said "Hundreds of thousands of children go missing every year and many are never heard from again. There are many causes of disappearance, but the goal is always to bring our kids back. Today, we draw special attention to this tragic issue. I ask our communities to be vigilant and to report any suspicious activity or information that could help bring a child back home. At the County level, we are working hard to protect victims of trafficking, and provide them and their families with the services and assistance they desperately need during the scariest time in their lives. Whether someone is abducted, trafficked, or lost, the County and our departments are ready to work with families and the community."
Louis Zaharias was quoted as saying "I want to thank the combined efforts of the National Center for Missing & Exploited Children and Clear Channel Outdoor Americas for this overwhelming kindness and for raising awareness about the cause of missing children and my beloved lost children, Lisa Mae and Christopher. As a parent searching for my children for the last 30 years, it's billboard campaigns like these that can revitalize hope for me and for all of the other parents out there experiencing the anguish of losing their child."
According to NCMEC, photos are one of the most vital tools for law enforcement when searching for a missing child, and have the power to produce leads that can help law enforcement give families answers and help safely recover children. The new billboard campaign enables NCMEC to reach a broad audience across Los Angeles by distributing photos of the missing children in targeted areas that can aid local law enforcement with a search.