JCDecaux is showing its support today for World Environment Day by turning some of its iconic digital sites across the UK green.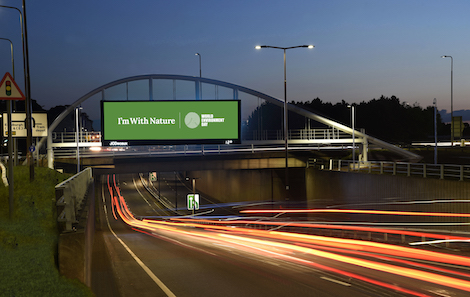 The initiative, designed to raise awareness of the day, is part of a wider sustainability commitment on behalf of JCDecaux. Spencer Berwin, Co-Chief Executive Officer at JCDecaux UK, told us "JCDecaux was founded with the intention of enhancing the quality of urban life by focusing on services for all citizens. Our intentions have not changed over the years, reflected in our company value of sustainability which we believe is key to the future of our cities. To ensure we uphold these values, improving quality of life through our environmental initiatives is now a key aspect of our offering. By turning our screens green this World Environmental Day we hope to raise awareness of the importance of making a commitment to sustainability."
Seven iconic digital superstructures went green between the hours of midnight and 05:00am, including the Salford Arch and the Trafford Arch in Manchester and the newly launched Edinburgh Arch. Additional locations include the Towers Channel, featuring the Liverpool Towers, the M4 Tower and the Torch.
Led by the United Nations, World Environment Day encourages worldwide awareness and action for the protection of the environment. JCDecaux's green screens echo the wider awareness-raising initiative to turn global iconic buildings – including the Empire State building – green.
In 2014, JCDecaux renewed its Sustainable Development Strategy – a policy designed to address six key priorities including the reduction of energy consumption, with a focus on furniture electricity efficiency and renewable energy sourcing. On a yearly basis, JCDecaux UK increases the proportion of electricity covered by renewable sources with the ultimate objective of reaching 100% by 2022.
JCDecaux is also committed to helping clients communicate their sustainable development commitments by offering green paper printing solutions and acting as a platform for innovative, environmentally-friendly campaigns. A recent example includes equipping bus shelters with air cleaning units designed to fight pollution in London for The Body Shop.