Signagelive has partnered with AdMobilize [1], a global leader in computer vision intelligence, in order to bring real-time audience analytics and dynamic creative capabilities to digital signage networks across the globe.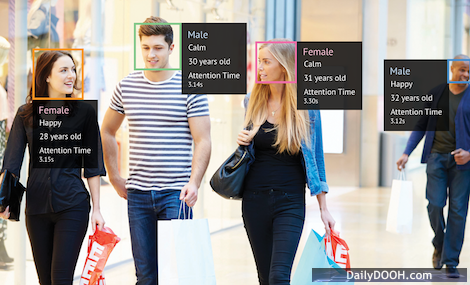 AdMobilize´s transformative analytics platform provides data to understand attention, demographics and emotions of viewers engaging with networks powered by Signagelive.
According to Jason Cremins, Founder/CEO of Signagelive, "Being able to support the proof of play and proof of display data that we capture in Signagelive with proof of view, is imperative to Signagelive resellers and network operates who want to measure the true impact of their digital signage. AdMobilize provide a simple, powerful and cost effect audience measurement and visual analytics that compliments Signagelive and meets the demands of our partners and the 1,800 digital signage networks powered by our platform across the world."
Mike Neel, Global Head of Marketing/Sales at AdMobilize told us in Miami a few weeks ago "Working with Signagelive and their network of partners just makes sense. The demand for audience measurement and visual analytics for digital signage has reached a tipping point, and our technology allows it to be highly scalable. We believe our combined effort will make utilizing these solutions more practical and effective for networks. The ultimate goal is to provide insights that positively impact their digital signage solution."
Signagelive and AdMobilize have several case studies in the works in partnership with VARs, MSPs and Networks for the remainder of 2017. Both companies look to grow the number of projects throughout the year and continue to provide a more seamless solution that continues to evolve the convergence of data and digital signage.
AdMobilize describes itself as a machine intelligence company making sense of the physical world. The company's mission is to connect the physical world to the online grid by utilizing pioneering computer vision and artificial intelligence technology. AdMobilize provides the DOOH, OOH, and retail industries, the most complete and turnkey solutions including: audience measurement and computer vision solutions including face detection, vehicle recognition and crowd analytics. AdMobilize's team consists of 40 seasoned data science, computer vision, and hardware engineers who have created highly scalable solutions equating to the "Google Analytics" for the physical world.