Adrian J Cotterill, Editor-in-Chief
NEC Display Solutions annual show, which this year celebrated its 10th anniversary, saw it reach new levels of success, appealing to an even broader audience. Although the event, for the first time ever, was held in the same location as last year, there organisers moved to a new Showcase format giving greater focus to experiential themes – this cleverly took visitors on a digital journey through a typical London day.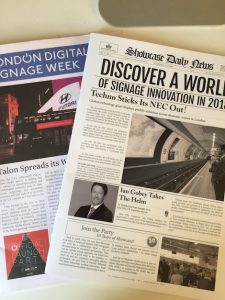 This more immersive approach was borne out as end user attendance increased to close to 50%, compared to channel. The visualisation of technology in action greatly appeals to end users looking for inspiration to recreate solutions within their own environment. Over 15% of all visitors attended from outside of the UK as Showcase continues to attract a wider out-reach across Europe and beyond.
Unanimously, the positive feedback regarding NEC's creative delivery was astonishing as attendees enjoyed experiencing the exciting 'story' of their day. Visitors were taken on a journey through a typical London day – travelling by tube, grabing a coffee on the way to their first meeting then strolling along the high street for lunch. The visual experience was widely shared over social networks with #NECShowcase seeing extraordinary twitter traffic reaching close to six million impressions, according to DailyDOOH's sister site aka.tv.
NEC's display technologies, including LCD large format and desktop displays, projection and dvLED digital surfaces, shaped visitors' visual engagement with capabilities perfectly suited to support a wide range of applications, as demonstrated along the Showcase journey which addressed transport, retail, DOOH, QSR, corporate, education, leisure and command and control.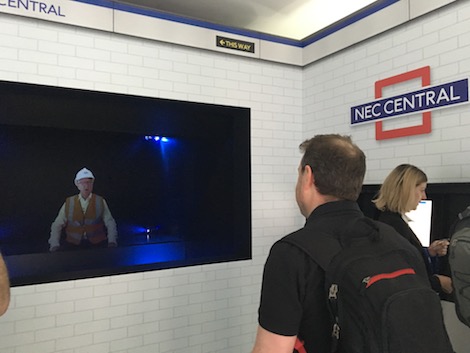 NEC worked with 42 partner companies who were universally committed to the valuable part they played in creating the Showcase experience. Steve Pryor, director of Oblong was quoted as saying "The Showcase is an excellent forum to draw the industry together through collaboration. We're showing our Mezzanine solution integrating with the NEC InfinityBoard – by connecting technologies and presenting them in a real-world simulation, Showcase becomes a highly impactful and innovative environment. Partnering with NEC is a very cost-effective way to show our product, the set is built ready for us to simply turn up and add our technology. The quality and quantity of visitor through-put has been outstanding".
Mark Taylor, solutions sales manager and technical orchestrator of Showcase told us "We are overwhelmed by the hugely positive response to our fresh new Showcase concept this year. The holographic telepresence solution from our partner Musion proved a particular talking point as visitors received a personal welcome as they entered the venue! Live interactions were central to our theme running throughout Showcase."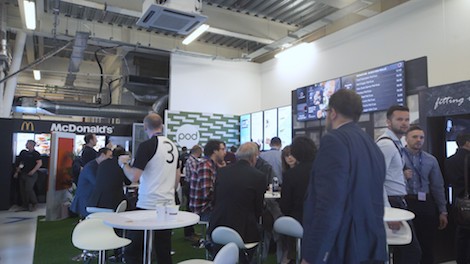 Other highlights included a highly relevant conference programme with AV User Group Chairman Owen Ellis leading a panel discussion regarding the challenges of adopting new technologies and Clive Couldwell, Editor of AV Magazine hosting an expert panel discussing LED. Gary Kayye, founder of rAVe Publications delivered his expert insight into the emergence of huddle spaces and addressed the future of projection.
London Digital Signage Week will take place May 13 – 17, 2019 and as with its counterpart in New York, the week is for anyone in digital signage; interested in retail, employee communications, smart cities, digital out of home and of course digital signage!