Adrian J Cotterill, Editor-in-Chief
Adidas Canada has launched a new campaign, geared especially to women, in its flagship store windows at the corner of Yonge St. and Dundas Square.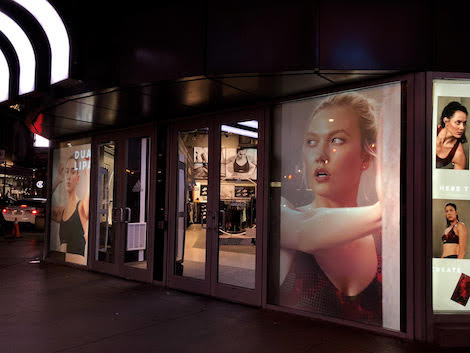 The campaign we are told, marks an expansion into retail for Regina-based FrontRunner Technologies, which, through its proprietary WindowFront Matrix, has until now concentrated only on filling empty mall and street-front store windows.
With the campaign running though the month of November, Matt Stefan, FrontRunner's COO told us "Over 600,000 people will witness first hand this campaign delivered by our FireFly Illumination System, marking FrontRunner's move into big brand retail."
Titled 'Here to Create', the dynamic women's fitness campaign features English singer and songwriter Dua Lipa and American model and entrepreneur Karlie Kloss.
Nathan Elliott, FrontRunner's CEO said "Yonge and Dundas is Canada's Times Square. We are thrilled that one of the best brands in the world sees the power of our platform for an advertising mecca like that. FrontRunner recognizes the value of retail as a complementary offering to its empty storefront solution. In fact, we recently were able to trademark the phrase 'Window Shopping' which is applicable to both offerings."
FrontRunner, which is already active in New York and several Canadian cities, expects to roll out several campaigns that are now in development to windows across the U.S. in 2019.
FrontRunner, a member of the Digital Place-Based Advertising Association, partners with Ayuda Media Systems for content management and creates windows of opportunity everywhere through the Firefly Illumination System.