Microsoft has announced that its first physical retail store in the UK will open to the general public on July 11, 2019.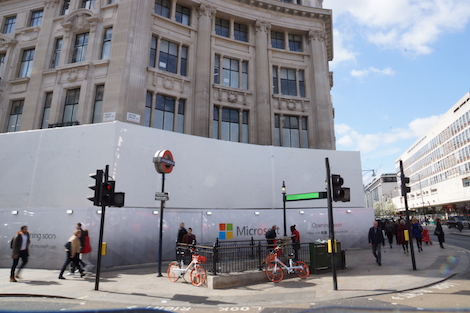 Located on Oxford Circus it covers 21,932 square feet over three floors and would seem to offer much the same visitor experience as its New York flagship store on 5th, namely lots of interactive zones and with immersive video walls running throughout the store. This is also an earlier opening date than expected (many people believed that September was planned for the launch).
John Carter, newly appointed Store Manager told us "This will be more than just a store. Customers will have the chance to explore and get hands-on with technology. We've got a passionate group of store associates ready to bring the experience of tech alive for customers. Unique to any job in retail, there will be many ways for us to give back to our communities, help them build connections and grow."
The flagship Microsoft Store will feature an Answer Desk, offering a dedicated area for customers to get tech support, trainings, repairs and advice from trusted advisors on Microsoft products and services. No matter where the device was purchased, the brand or operating system.
Cindy Rose, Microsoft UK said "This new flagship store builds upon Microsoft's significant track record of investment in the UK," said "More importantly, located in the heart of central London it will serve as a vibrant hub – for both visitors to our great city as well as a variety of different local communities – to come and play, learn, create and discover.".
The store also has a Community Theatre, a space for tech, coding and STEM learning, and will run free, year-round workshops and programs for customers.
The press release stated that the Microsoft Store in London is the latest step in the company's almost 40-year investment in the UK. Microsoft recently doubled the size of its Azure regions to help more organizations digitally transform and is committed to support the growth of digital skills in the UK in partnership with computing education and youth communities.
The site also adds to the growing list of innovative facilities Microsoft runs in the UK, including three gaming studios, the start-up hub Reactor London and the global centre of excellence for the development of artificial intelligence and other computing disciplines in the Microsoft Research Lab in Cambridge.