Russ Curry, Ministry of New Media
The World Out of Home Organization annual Congress, cancelled in 2020 because of the #COVID19 outbreak has re-scheduled for 2021 at the same venue, the Sheraton Centre Toronto Hotel for May 12-14, 2021.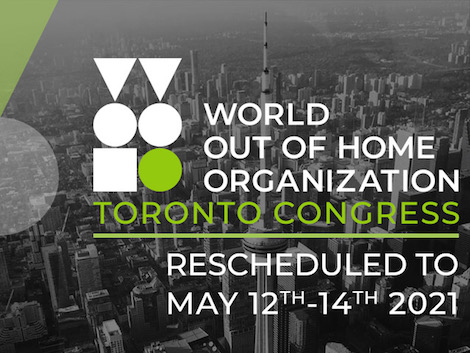 WOO Executive Director John Ellery told us "After the crushing disappointment of being forced to cancel in 2020 we're delighted to announce that we'll be able to gather in Toronto next year, in May as opposed to June. Holding the event in May will also make it easier when re-scheduling travel arrangements with many airlines as the new dates are within 12 months of the 2020 event.
"We've been very fortunate in securing this venue once again, especially as travellers and companies across the world are busy booking locations and venues now as the world prepares to return to normal after the horrors of Covid-19. We were determined to return to Canada whatever the obstacles, because of the excellent facilities available there and the terrific support we are being afforded by our gracious Canadian Colleagues. 
"We look forward to meeting our many friends in the worldwide Out of Home industry in Toronto next year and we are determined that this will be our biggest and best Congress so far."
Attendees who booked for 2020 will be able to roll over their bookings for May 2021.