Adrian J Cotterill, Editor-in-Chief
Foris Outdoor, a new UK digital out-of-home media owner, has made its first screens live, running campaigns across this month for brands including the COI, Sainsburys, Virgin Atlantic, BBC, White Rabbit Pizza Co and Lucky Saint, the alcohol-free beer.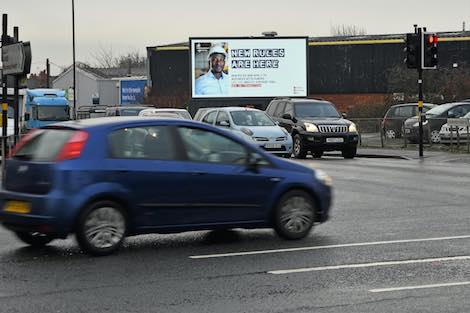 Foris Outdoor now has 20 digital roadside screens across UK towns and cities with a promise of the roll-out of new screens every month through to end 2023. The growth in the Foris network of screens is due to a strategic partnership with Wildstone Capital, market leaders in Outdoor Media Infrastructure specialising in the purchase of freehold and long-term leasehold billboard sites. The business is also 'programmatic-ready' following technology partnerships with Hivestack and Broadsign.
Foris Outdoor is delivering a UK wide network of locations to support advertisers looking to reach audiences in every corner of the country. Its roll-out includes screens from Cornwall in the south of England and to the city of Dundee in the North of Scotland. By December 2023, the network will exceed 160 towns and cities including the major conurbations of Greater London, West Midlands, Merseyside, Yorkshire, Greater Manchester and Greater Glasgow, as well as new towns and cities previously only reachable via posters. These include screens in the upmarket towns of Oxford, Cambridge, Lewes, Poole and Christchurch which all go live in 2021.
Cennydd Roberts, Founder and Chief Executive, Foris Outdoor, told us "After an undeniably challenging 2020 for the out-of-home sector, we are thrilled to be adding a new and very exciting opportunity for advertisers to reach UK wide broadcast audiences across the UK. Our network of high-quality screens will replace the billboard poster and provide digital access for brands into both existing and new towns and cities. The locations will help advertisers capitalise on new consumer behaviours shaped by the pandemic as people spend more time near to their homes and on the UK's roads."
Foris Outdoor is backed by a consortium of investors including Jonny Brackenbury, previously Director of Credit Suisse and an early investor and long-standing board Director of Soho House, and Andrew Kelly, the founder and owner of Open Outdoor which he sold to Dentsu Aegis Network in 2018.