blowUP media Benelux is attracting shoppers and reducing carbon emissions at the same time with 'The Green', a groundbreaking 40m2 giant digital screen on Belgian seaside resort Knokke's prime shopping street, Lippenslaan.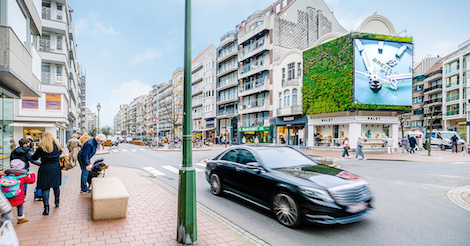 Ernst Vos, Chief Commercial Officer blowUP media Group said "We constantly strive to be an icon in our industry, accelerating our business by diversi cation and creating long term value and growth. We are a purpose driven organisation and have an important role to play in the cities we are active in. In recent years it has been our focus to increase the uptake of bio-based poster materials through ECHO®, with this GreenTech vertical garden in Knokke, we take positive impact to the next level."
The premium digital screen, part of blowUP media's DOOH network 'Frontline', sits in a 100m2 vertical garden of carbon dioxide-reducing plants. Approximately 1,000 kilograms of net CO2 per year will be absorbed by the insect- and bird-friendly garden. The living wall helps the municipality of Knokke to make the urban city centre more attractive and create a positive e ect on the wellbeing of city dwellers and visitors.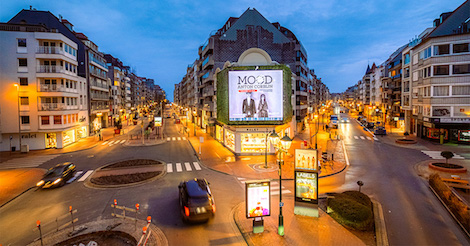 Knokke is a wealthy seaside resort on the Belgian coast hosting big retail and upmarket brands. It is the ultimate location to reach high-net-worth individuals and a broad mix of residents, holidaymakers, second resident owners and visitors.
Katrin A. Robertson, CEO blowUP media Group said, "With the launch of 'The Green' in Knokke we are further expanding our premium DOOH portfolio, as part of our growth and innovation strategy at blowUP media. Furthermore, the screen perfectly ts to our sustainable ambition as it reduces our ecological footprint with its surrounding vertical garden. Thus, "The Green" will o er advertisers positive impact in two respects: impressing the audience with large emotional and striking images as well as conveying sustainable purpose."
Lippenslaan has nearly 5 million visitors annually.