CEDIA has retained global executive search firm Vetted Solutions to help recruit its next CEO, marking a key stage in the hiring process. Vetted Solutions has a demonstrated track record of executive recruiting within the international association, technology, and design and build industries.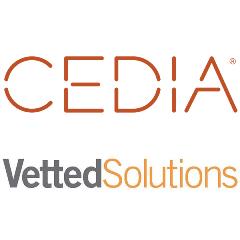 The recruiting company has offices in Washington D.C., Chicago, and Los Angeles, and is part of Panorama, a network of partners across Europe, Australasia, Africa, and Asia, that together form an exclusive alliance of leading independent executive search firms.
CEDIA Board Chairperson Rob Sutherland said "We are excited to partner with Vetted Solutions to identify a proven leader who will guide CEDIA into its next phase of strategic growth. Jim Zaniello and his team have a deep experience recruiting and placing executives from across the globe. We're confident they'll find an excellent leader to fill this critical position and support our members, staff and industry".
Potential candidates may contact Vetted Solutions directly at CEDIACEOSearch@vettedsolutions.com to express interest or request additional information about the position. The search will continue until a candidate is selected.
CEDIA hopes to announce its new leader later this year.