Adrian J Cotterill, Editor-in-Chief
The DPAA Video Everywhere Canada Summit has been expanded to two days and the live streamed event will be held June 9 and 10 at 11 AM ET to 1 PM ET each day.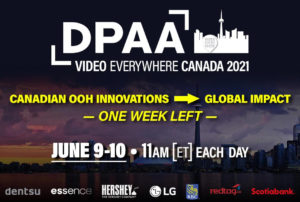 Topics will include markets re-opening, innovation, location data, programmatic OOH, and the growing role of DOOH in today's omnichannel strategies.
Confirmed speakers for this year's Canada Summit include:
Jason Harrison, CEO, Americas, Essence
Jeff Greenspoon, CEO, Dentsu Canada
Roberto Gennaro, Chief Digital Officer redtag.ca
Gai-Yee Won, Director, Marketing Channel Strategy, Scotiabank
Debbie Drutz, President, Novus Media and DPAA Board Member
Kevin McDonald, CEO, Kinetic Canada
Sasson Darwish, Head of Infrastructure Software, AI, IoT, Digital Media, RBC Capital Markets
Azim Akhtar, Marketing Manager, Reese, The Hershey Company
Barry Frey, DPAA President & CEO, told us "We look forward to once again welcoming brands, agencies, media owners, press, ad tech and other interested parties to this growing event. The DOOH industry has many roots in Canada and every year brands, agencies and our members engage in meaningful discussions about reaching consumers in today's Omnichannel world. A Canadian event at heart, the learnings are universal and therefore consistently attract a global audience".
Registration can be found here.