Adrian J Cotterill, Editor-in-Chief
Zapp is described as the fast-growing startup that delivers snacks, drinks, essential groceries and other everyday items within minutes, 24/7, and it has launched its first ever advertising campaign 'Want it. Need it. Zapp it.' here in the UK.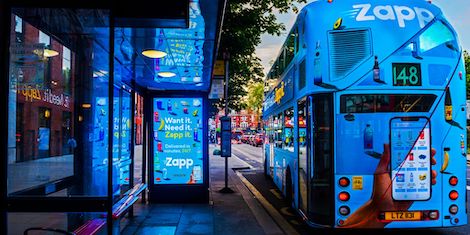 Steve O'Hear, VP of Strategy at Zapp said "When life can't wait, Zapp is there to meet our customers' more spontaneous or urgent needs, with just the right product range for the many 'need it now' moments. It was important to us that this campaign conveyed these USPs in a simple and impactful way to as many potential customers as possible. The creative combined with the multi-media strategy will deliver that."
Announcing the brand's arrival into the emerging rapid delivery market, the campaign heroes the 1000s of everyday products and brands the company has to offer with a simple but striking creative that will appear on major landmarks across London and Manchester throughout the summer.
A vibrant product pattern on the iconic Zapp hero blue colour features short, punchy copy that highlights the firm's convenience offering, there to meet the more spontaneous and urgent needs of customers, delivering to their doorstep in just minutes – 24 hours a day, 7 days a week. Following its appointment earlier this year, The Clerkenwell Brothers is behind Zapp's first multi-media advertising campaign which will lead with high-impact outdoor executions including the iconic IMAX digital canvas at Waterloo and premium formats at London Westfield and Westfield Stratford, as well as roadside and rail posters. The campaign will also feature a fleet of fully wrapped taxis and buses on the streets of the Capital, as well as VOD, digital and social media executions.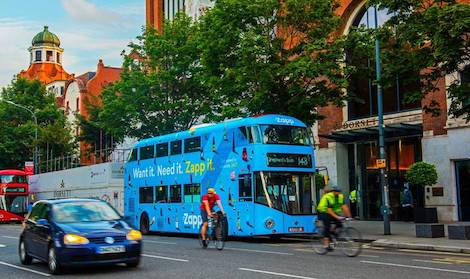 Founded in 2020, Zapp began operating this year from multiple fulfilment centres across London and guarantees delivery to customers in its neighbourhoods in minutes.
Faraz Aghaei, Creative Director and Co-founder at The Clerkenwell Brothers, told us "To meet the brief we needed to create a memorable campaign that both educated and captured attention. This meant a simple but striking creative execution that was dynamic enough to work across a multitude of different media formats, including unique canvases such as the IMAX, taxis, buses and roadside poster sites. We look forward to seeing it splashed across London and Manchester over the summer months."
Strategy, creative and production was handled by Zapp and The Clerkenwell Brothers, with outdoor media booked by Talon.
The Clerkenwell Brothers is an independent, award-winning creative studio that works across identity, packaging, advertising and social.