oOh!media has extended its Out of Home leadership in Sydney with the addition of a new high profile digital billboard in Gordon and an asset upgrade in Burwood.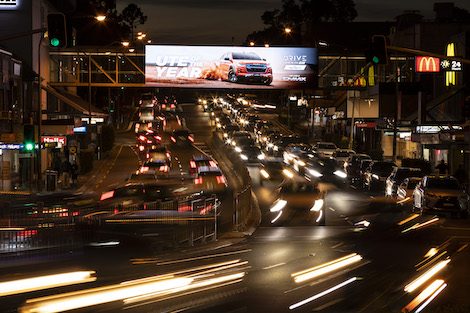 The prominent Gordon billboard on Sydney's Upper North Shore is located on a pedestrian bridge facing three lanes of traffic heading north on the Pacific Highway – a major transport arterial and one of Australia's busiest roads traditionally used by over 41,500 vehicles a day.
Noel Cook, oOh!'s Chief Commercial and Operations Officer, said "These assets extend our digital presence in key Sydney locations, giving brands greater opportunity to connect with audiences. The Pacific Highway and Parramatta Road are major thoroughfares that ordinarily carry large volumes of audiences to and from the CBD every day, enhancing our already unmissable reach for advertisers. Not only do these sites add to our growing billboard portfolio, they also bolster the impact of oOh!'s entire network when utilised in conjunction with our retail, street furniture and office assets across Sydney and nationally."
Targeting Gordon's affluent community in an area with relatively few digital large format sites, this brand-new billboard will offer an extra touchpoint for brands and complements oOh!'s extensive presence across formats in the local area, Lower North Shore and other nearby suburbs. This includes over 20 retail assets within the Gordon Centre, as well additional signage in other strategic locations ranging from North Sydney, Artarmon, Mosman and the Northern Beaches to Epping, Hornsby, Pennant Hills and North Ryde.
In the Inner West of Sydney, oOh! has also continued to upgrade existing classic assets with the digitisation of its billboard in Burwood, located on Parramatta Road and viewable by eastbound traffic on an arterial that usually sees around 54,000 vehicles a day.
The site 12km from Sydney's CBD will enhance oOh!'s digital portfolio in the area, and forms part of a chain of digital and classic large format assets into the city across Rozelle, Lilyfield, Leichhardt and the iconic Glebe Island Silos, as all as further west in Parramatta and along the M4.