Adrian J Cotterill, Editor-in-Chief
It's been a particularly good week for our industry in getting focus in the mainstream UK Press.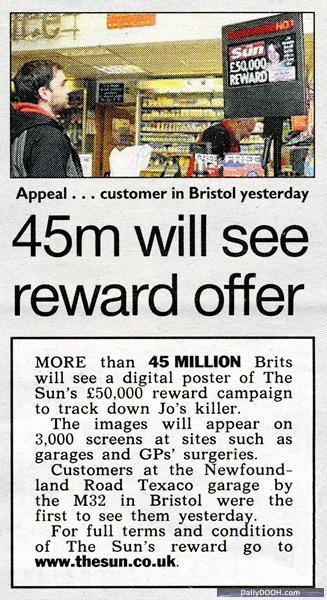 In the Metro (London's free newspaper) there was a double page spread about Quick Response (QR) codes as Geny Caloisi wrote here and yesterday also (Thursday 13th January) Page 4 of The SUN newspaper had this story…
"MORE than 45 MILLION Brits will see a digital poster of The Sun's £50,000 reward campaign to track down Jo's killer. The images will appear on 3,000 screens at sites such as garages and GPs' surgeries. Customers at the Newfoundland Road Texaco garage by the M32 in Bristol were the first to see them yesterday"..
Which of course follows on and refers to Amscreen running the reward posters across their networks free of charge.
We've also been continuing our work with Mediaplanet in preparation for the Digital Placed Based Media Supplement that we are writing for the Independent newspaper.
The Independent newspaper has a readership of something like 600,000 and the supplement will first appear in April 2011 and then again at #ScreenMediaExpo in May.
Our R&D foks are also looking at producing a Kindle version at the same time.