Gail Chiasson, North American Editor
Non-traditional media company Pearl Media LLC, Fairfield, New Jersey, has partnered with The Patrón Spirits Company, and The Richards Group, Dallas, to launch the Patrón 'Simply Perfect' Art Project to raise money for charitable organizations and identify an artist whose work will be featured in a 2012 Patron print ad.
Patron tequila is an ultra-premium luxury white spirit sourced, before distillation, from the highest-quality Weber Blue agave plants grown in the highlands of Jalisco, Mexico.
The campaign features live, working art studios – all within storefront windows – that offer emerging artists the opportunity to create works of art for auction in support of four art organizations across the country. The 'Simply Perfect' Art Project studios occupy formerly vacant storefront windows that have been transformed into spaces of creativity and imagination for nearly 30 up-and-coming artists. Given approximately one week each, artists will create an original painting, sculpture or other work based on their personal interpretation of Patron tequila's 'Simply Perfect' mantra.
Each studio is active throughout afternoons and evenings, Wednesdays through Sundays. During all other times, the art will be on display in each window, along with a video screen showing the progression of the collective work.
The four locations are in;
Chicago – 50 East Chicago Avenue (between North Wabash Ave. & North Rush St.);
Los Angeles – 7024 Hollywood Blvd. (between North Sycamore Ave. & North Orange Drive);
New York City – 454 West Broadway (between Prince & West Houston Streets);
San Francisco – 581 Market Street (between 1st & 2nd Streets).
"These live art studios offer a unique opportunity for emerging artists to showcase their work to a much larger audience," says Jennifer Long, Patron brand director. "At the same time, we hope to enhance the holiday season by bringing people the experience of artistic creation. We are thrilled to promote fresh talent and, with their help, enrich the local community. Their generosity of time and talent is a simply perfect gift to their cities, and we're proud to amplify it."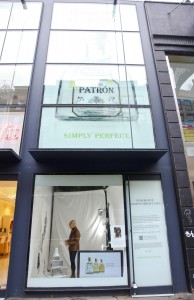 To view complete collections from all four cities, passers-by can scan the QR code located on the windows of each of the four installations. The QR code links consumers directly to the auction website, where they will be able to learn more about the artists and bid on their favorite works of art.
The artist whose work receives the highest bid will receive national exposure in a print advertisement for Patron in 2012. Additionally, the proceeds from the purchased pieces will benefit local art organizations that are partners on the project, including: the Chicago Artists' Coalition; Los Angeles Art Association; New York Foundation for the Arts; and The Artists Guild of San Francisco.
Pearl Media was responsible for the complete execution of the campaign, including the working storefront art studios and all digital elements.
Launched Nov. 14/11, the campaign runs through Dec. 31/11.