Russ Curry, Ministry of New Media
The French trade association, the Digital Media Association France has just published the results of its survey of the French Digital Media market in 2011, which was carried out by Digital Media Village.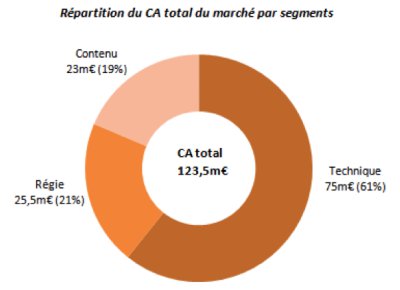 Overall turnover for the French Digital Media market last year was €124 M – an increase of 11% over 2010. Technology and equipment represented 61% of the total (€75M), followed by advertising (€25.5M) and content (€23M).
Technology
Of the €75M generated by technology, suppliers of screens and video projection systems represent €19M – other types of hardware represent €14M – while software turnover was €10M. Integration was worth €12M, followed by operations and maintenance (€9m), installation (€7M) and consulting (€4M)
Advertising
Advertising was worth €25.5M in 2011. Revenue from national advertisers exceeded that of local advertisers – 55% (€14M) compared to 45% (€11.5M) – for the first time since records have been kept.
Digital Media Association France President Marc Ballu, commented "this swing, which is due to networks installed either in high-impact locations or in very specialised locations (Paris underground, pharmacies, tobacconists) shouldn't hide the fact that the large majority of advertising-based networks survive, almost exclusively from local advertising."
In 2011, France was the third largest digital media advertising market, behind the UK and Germany.
Content
Content creators and programmers provided 85% of revenue in this area (€19.5M), while suppliers of ready-made content (live feeds and video) made up the other 15% (€3.5M).