Gail Chiasson, North American Editor
Thanks to Amy Jane Finnerty, director of PR & communications, NCM Media Networks, right, and Yesenia Reinoso, PR Assistant, all worked swimmingly at our first visit to an NCM Upfront.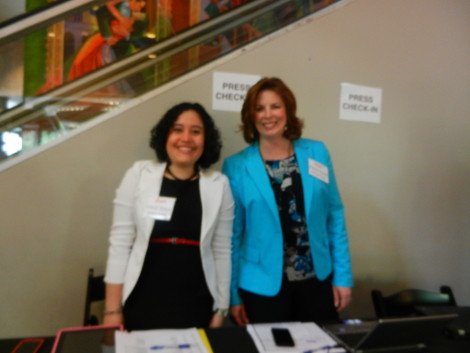 We got there a bit early due to Air Canada's scheduling, (better to be early than late) so had a chance to chat with Paul Lindstrom, senior vice-president custom research, Nielsen Media Research, also early due to commuter train scheduling, who was waiting outside the big AMC Lowes Lincoln Square Movie Theatre.
Once inside, the one thing we thought peculiar was that press members had to wait to actually enter while other attendees were allowed in. A representative from Fox Broadcast told us that he's seen this before, so maybe it's a New York thing. We also thought it strange that few people seemed to be exchanging business cards.
All in all, though, it was fun to see a great presentation, and, having in the past attended numerous TV Upfronts, we can say that NCM's Upfront was right up there with the best of them.