Gail Chiasson, North American Editor
As it has for the past seven years, Pattison Outdoor Advertising, is again the proud principal supporter and champion of the unique arts and culture initiative, Art in Transit.
With a long history supporting arts and culture, Pattison is furthering its ongoing commitment to bringing art, design and media to a wider audience in collaboration with transit systems across the country. This relationship allows the work of emerging artists to be viewed by thousands of people and demonstrates Pattison's's pledge to raising awareness about the important role of the arts in Canadian communities.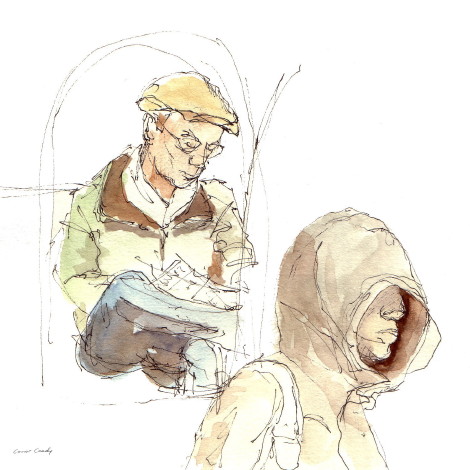 Sketch of Berlin commuters by Conor Coady, one of 13 artists in 'Sketching the Line', appearing on Pattison Onestop screens in Toronto, Edmonton and Calgary this March.
Over the years, it has featured more than 60 such projects on Out-of-Home products within Toronto and across the Canada. Art in Transit offers daily opportunities for millions of Canadians to engage with contemporary art and culture in public spaces across the country.
"This year's expanded program will promote and advance art appreciation in public environments not typically associated with the arts," says Randy Otto, president, Pattison Outdoor Advertising. "Pattison recognizes the positive value of arts and culture on society and in our communities across Canada – it stimulates new ideas, connections, conversations and sparks creativity, all qualities that promote economic development and improve the quality of life."
Art in Transit launched on Pattison's Toronto digital subway screens (under OneStop Media Group which it acquired in March, 2011) and expanded to include programs on Toronto subway posters, above ground video boards, and on its largest beacon board. It has continued to develop Art in Transit's audience and reach, with programs across Canada and which were evident on overhead spaces on buses, Calgary airport digital screens, digital boards in high-vehicular traffic locations, and on digital screens in shopping centres across the country. Most recently, Pattison has added the Edmonton Digital Transit Network in 10 key LRT stations, as well as residential buildings and the Pattison Onestop Digital Office Network across Canada.
"Art in Transit's projects foster creativity by bringing unique, temporary artworks to audiences in interesting environments," said Sharon Switzer, National Arts Programmer and Curator, Art in Transit, Pattison Onestop. "We also offer artists the opportunity to reach enormous audiences that extend beyond the limits of the contemporary art world."
Art in Transit 2014 program highlights include 14 different themes throughout the year.
Sorry, poetic apologies filled with comic remorse reflect on almost everything from modern art to sleeping by Gary Duehr has been running since late January and ends Feb. 28. Toronto Love Lettering Project, people's hand-crafted love letters to Toronto made especially for this project also ends Feb. 28.
Beginning March 3 to April 13 will be Sketching the Line, an international exhibition of artists' sketches of other commuters drawn while on transit. Also in March, pages from Cybèle Young's Governor General's Award–winning children's picture book, Ten Birds, and companion, Ten Birds Meet a Monster, will be featured. These layered stories will be revealed sequentially page by page in a series of spots.