Over 140 people have now registered for our 'Employee Communications' Thought Leadership Summit [1] which takes place on Thursday May 15 co-located with the 6th NEC Solutions Showcase [2] during 'London Digital Signage Week [3]'.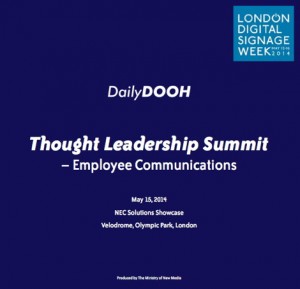 [4]We are continually re-working the seating arrangements (attendees will be seated in the Olympic Velodrome which surely also adds to the excitement) and as usual, we have a truly fantastic line up of speakers:-
World renowned corporate communications expert Chuck Gose (who is jetting in from Indianapolis) presenting 'The Physics of Employee Engagement.'
The Gatehouse Group's 

Ray Edun, Associate Director and Ian Harris, Head of Content will be bringing alive their report Internal Communication. State of The Sector. 2013 – 2014
Heather Wagoner, Head of Internal Communication and Engagement with the London Underground, will present 'Employee Communications: Influence @ Work. Identify the influencers and create messages that change minds'.
Amigo's Alex Hughes discussing some of his company's work with PwC, the London Stock Exchange (and others) in a talk entitled 'How to Reinforce a Brand, The Minute you Walk Into A Building'
Christian Lie, Senior Advisor Digital Signage at Norway's largest financial services group DNB [5] will be taking a look at his company's brand new headquarters and how digital signage was an integral part of Norwegian architecture firm Snøhetta's work
ECNLive [6]'s Matthew Mackaness will discuss 'Communicating in your Property Entrance' and why first impressions last
Award winning Bloomberg Link creator [7], Téléciné Multimedia's James Fine is flying over from Montreal to explain 'How to Score Internally With Great Content'
Peter Critchley, Managing Director, Beaver Group will explain how in a media-rich world, reaching your employees and achieving message retention is an increasing challenge. His talk 'Contextualise Your Employee Communications' will explain how understanding the behaviour and media consumption habits of your audience is critical, and how it has a direct impact on how successful your communications strategy is.
and Cathy Brown , Executive Director, Engage For Success will round off the day for us as she highlights simple enablers of engagement, along with the barriers to engagement and some straightforward tips that you can use immediately to start making a difference in your organisation.