Thought Leadership Summits
Our Thought Leadership Summits (TLS) are a series of exclusive events held throughout the calendar year, usually in London or New York (but sometimes as far afield as Las Vegas).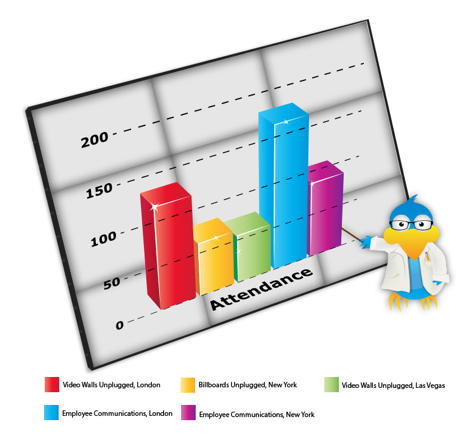 Sometimes as few as a half a dozen, sometimes more, of the best industry speakers made up of short, quick fire 30 or 45 minute presentations, together with an educated, informed audience is all aimed at promoting lots of interaction, debate and learning.
Video Walls Unplugged, London, Thursday 16th May 2013. Video Walls Unplugged was held in conjunction with the 5th NEC Solutions Showcase at the iconic Tobacco Dock in East London on Thursday 16th May 2013
Billboards Unplugged, New York, Monday 21st October 2013. Billboards Unplugged kindly sponsored by Barco was held as part of New York Digital Signage Week
Video Walls Unplugged, #dse2014, Las Vegas NV, February 2014. Video Walls Unplugged was held Tuesday 11th February 2014 as part of DSE's education programme

Employee Communications

 was held Thursday 15th May 2014 as part of the 6th Annual NEC Showcase during London Digital Signage Week

Digital Signage for Employee Communications, New York

, kindly sponsored by Four Winds Interactive, was held Thursday October 23, 2014 in New York
Depending on the purpose of the TLS we sometimes have an exclusive invite-only audience of 30-40 people, or at other times, anywhere between 50 to 150 attendees (depending on location).  Either way, the events themselves are some of the best learning experiences in the industry.