Tossed first opened its doors in Sheldon Square in 2005, and now offer 14 shops to choose from in central London. The mission was simple; to create a new, healthy and exciting food experience, that didn't compromise on taste or portion size, for the UK market. They are also present at two major shopping centre food court units and for those on-the-go can also stop in for their fix at selected Welcome Break service stations.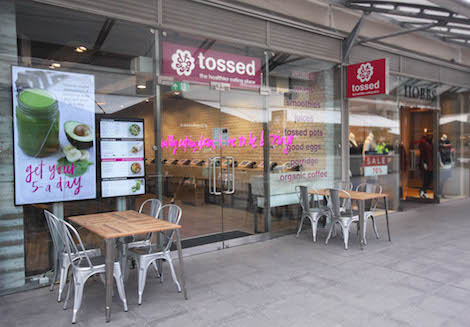 Signagelive powered digital screens are used in their store windows to display promotional graphics and menus, typically LG webOS based screens in sizes between 32" to 65" used in both portrait and landscape – 65" portrait screens are used in-window for advertisements and promotions to capture customers' attention with dynamic content/videos and some of the smaller screens are used in landscape format to show digital menus.
There are 50 screens across all of the Tossed stores and Welcome Break sites; 27 screens in their own main stores, 14 in Tossed Dubai stores and 16 in the Welcome Break stores.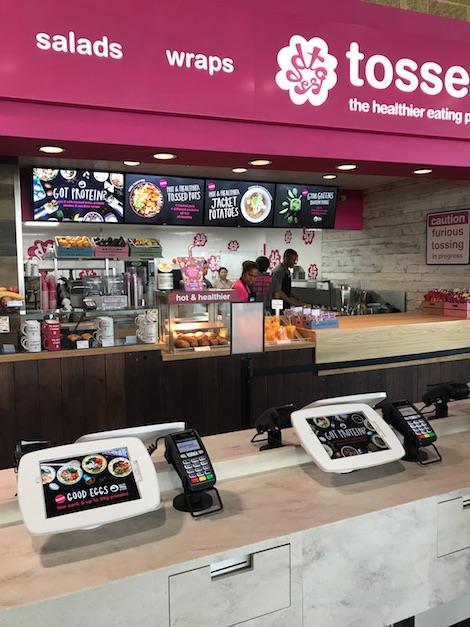 The business case for switching to digital was pretty compelling, Tossed of course previously used printed vinyl window graphics, which were expensive to install and time-consuming to change. They wanted a faster, easier-to-update solution which also complimented their new in-store digital ordering technology and Tossed quickly compared the cost of installing printed graphics and the potential increase in sales from having the ability to update their marketing campaigns much more quickly and responsively.
Lisa Prisk, Head of Creative, Tossed told us "We are able to promote offers at specific times and in a very quick turnaround time, helping to boost sales in slower parts of the day and in targeted stores. We've seen improved uptake of marketing campaigns and offers when marketed on digital screens compared with our vinyl graphics, and using the screens in windows of new, soon-to-open stores is fantastic for generating interest in the new store and ensuring a really busy opening day".
Interestingly, Signagelive won the business with Tossed because their (Tossed) franchise partner Welcome Break was already successfully using Signagelive [1] in its stores.