Our Technical Director Andrew Neale spent one whole day (the second day of the show, Tuesday) walking both halls of #NABShow in Las Vegas and I joined him for the last few hours of the Tuesday. The show was as usual huge; final attendance is said to be iro 82,650.
Was it just us, or was it because it was the second time around for us (we were at the show for the first time back in 2009) or did the show have a much better feel about it than last year?
DOOH is practically non existent at the show and there is little digital signage. Harris Broadcasting had a huge booth, so huge in fact that seemingly it had a cafe in the middle of it and STRATACACHE had a small booth as usual.
NAB always seems to result in one of the smaller Christie Digital booths at any trade show where they exhibit but just to show that size is not everything this particular booth design gets a big thumbs up from us – one of the much better Christie booths we have seen (and mind you most of them are good).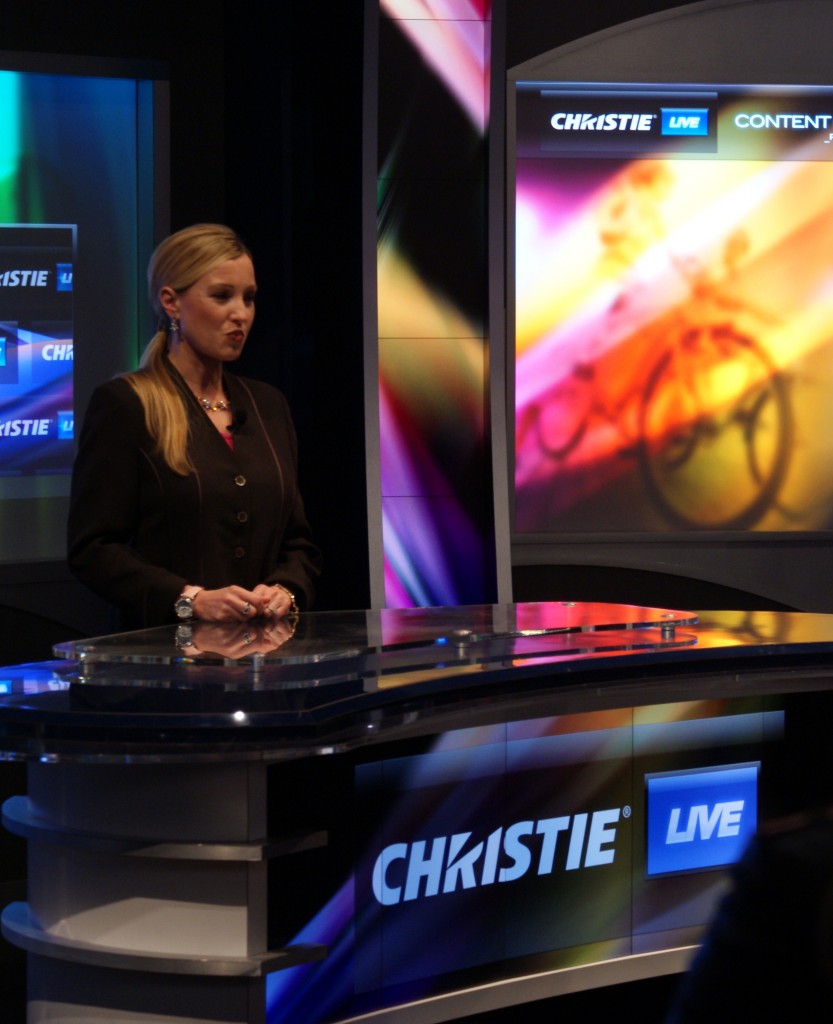 [2]
Most folks may not have noticed but Christie showed off a lot of new MicroTile configurations and a lot of great new content.
Observant attendees would have seen MicroTiles stacked in portrait mode in columns (i.e as opposed to the usual landscape columns) – this is in actual fact a similar configuration to that used on the Colbert Report TV backdrop [3].
Christie even had a table at the front of the booth whose bottom half was made of MicroTiles and if you looked closely there was even a slight curve (concave in fact) in the way the MicroTiles had been put together.
One particular content configuration we liked was the mock up for cinema foyers in one of the wayfinding columns powered by WireSpring – again a 'unit' that we think could be sold simply off the shelf by intrepid VARs.
Norwegian mobile interaction specialist never.no [4] were also exhibiting again – they also got a nice mention in the NAB Daily News(paper), page E10 of Tuesday's News Extra edition had a great piece on Never.no's interactivity suite for Music Choice.