We weren't quite sure when work, for most people, would stop for the holidays – we figured this week sometime (although, there are of course two working days next week as well, before the 25th) but just as we were getting into our own Xmas spirit along came a whole flurry of news stories and some last minute request for meetings in Londonium.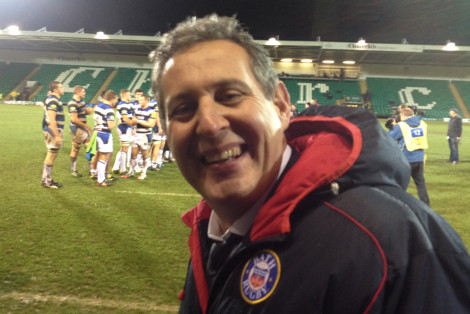 [1]
DailyDOOH Towers has received some really nice cards and some lovely gifts and we'd like to especially thank Amigo Digital, Limited Space Media Group, MediaZest and Show&Tell Productions.
Limited Space's David Da Costa (shown above in full cold weather Bath Rugby [2] gear) was kind enough also to invite us to a very special Rugby game earlier in the week (so thanks for that).
Show&Tell's Phil Lenger made a gift in our name to the New York Foundling [3] – the Foundling is a New York-based charity that empowers thousands of children and families to live independent, stable and fulfilling lives (a lovely gesture, so thanks also for that).
Just a couple of points then before we really wind down for a well deserved break:-
There may be the odd 'DN' (that's an email out, a 'Daily Newsletter' to the uninitiated) over the next few days but if there isn't we'd like to take this opportunity to thank all of our sponsors, advertisers and readers and wish you all a Merry Xmas and a Happy New Year.