Adrian J Cotterill, Editor-in-Chief
It's tradition that we always post our look back on some of the best, we think, that the year had to offer.
This list, in no particular order, was compiled along with all of our contributors and like all 'best of' rankings, it is in no way scientific. Enjoy…
Two great events stand out for us in 2012, the AOpen Forum Europe 2012 at the beginning of the year (and another separate event in October, which we'll cover later). AOpen's event, traditionally held the day before ISE proper is always one of the best attended conferences in Europe and 2012 was no exception, with 150 AOpen partners, suppliers, customers and consultants gathering together in the Dorint Hotel Amsterdam-Airport. Not only do we think it's great that exhibitors at ISE get to do their own thing around the week of ISE, both elongating the event (ISE that is) and being allowed to set their own agenda we REALLY like the thought that AOpen put into the event itself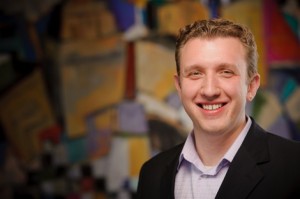 Symon hires Chuck Gose. The best company hires are always inspired. Maybe you don't have a need for someone at the present time, but someone comes along that you just know you need to employ. Perhaps in some instances you create a new job title just for one individual. We don't know if this is the case in this instance but we reckon that Texas-based Symon Communications decision to employ Chuck Gose as 'global practice leader in employee communications' was inspired. Under new owner RMG Networks, Symon is going to have much work to do in 2013 and we know that Chuck will end up being a central part of the re-positioning in the marketplace that Symon so sorely now needs
STRATACACHE's McCafe rollout (again) was not only 2011′s largest digital menu board rollout anywhere in the world it was also one of our favourites AND so it is again in 2012 as we see it in more and more countries that we visit (Japan for sure as we have seen it with our own eyes, and we have reports from Australia and China also). By our reckoning this installation must be approaching 16,000 sites by now and you can see the effort that STRATACACHE puts into QSR (and indeed McDonalds), witness, the launch of their Digital Menu Board Customer Experience Center in July 2012 and their rapid office expansion, especially in Asia. We like big brand networks with huge rollouts and this works on both counts
Industry People. We are privileged to travel the world doing work we love, in an industry we are passionate about. This is made all the better by the people we interact with (that's you dear readers) and are always amazed at how well we get looked after when we are on our travels. There were dozens and dozens of good times but the three highlights of 2012 are the now infamous 27 mile hike around the Hoover Dam followed by beers and barbeque at Chez McGowan in Lost Wages, Quividi's Olivier Duizabo welcoming us into his Paris apartment and cooking us a three course lunch before we all proceeded to have a very productive afternoon 'working session' and most recently our time in Jerusalem – if you've never been to a Jewish girl's 40th birthday party in Hebrew (and a smattering of French) then you've never lived.
Garry McGuire. This year, as well as deliberating about conferences in general, we also took a long hard look at what we thought was the best presentation any of us had heard during the year. We had certainly heard some good ones and it was almost a tie between those given by individuals; Cohen, Dusho and McGuire at our Investor Conference in New York in October. The mighty Phil Cohen, president and CEO of CARE Media Holdings had a recurring theme during his talk to his fellow network owners "Don't discount!" and was delivered in his now trademark style that had the audience stay to the very end of the conference. Brian Dusho spoke from the heart when he went into all that happened before, during and after BroadSign's Chapter 11 protection back in March of this year. Brian didn't ignore or gloss over the hard bits of that process either and gave real figures to back up all that happened. There was almost not a dry eye in the house. However the winner in our eyes for the best presentation of the year was Garry McGuire, CEO of RMG Networks, San Francisco,. Garry stepped into an unexpected gap in the program at the last minute AND came up again with a speech that was filled with the type of information that the attendees had come to hear. Garry talked honestly and openly about what his company has done right and wrong. It was a tremendous learning experience for all who had the privilege to listen to him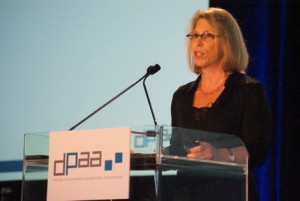 DPAA Digital Media Summit. The first event that goes in our industry calendar (and in our personal Travelogue) each year is the DPPA event in New York, held typically in October. Now, whilst the DPAA committee(s) need to have the balls to ditch most of the panel sessions (we want to hear one great speaker tell us something, rather than have a group of good speakers not get the opportunity to tell us anything much) this event keeps getting better and better. 2012′s event had a delightful and inspiring introduction from Susan Danaher (President of the Digital Place-based Advertising Association), was perfectly setup for networking and doing business, had some great presentation sessions and is a brilliant end to a year (but please, let's reconsider those panel sessions before October 2013)
Ocean Outdoor. If the truth be known Ströer Infoscreen, the network we loved the most in 2011 had to reset itself slightly this past year, after clearly setting its sights on going head to head with TV advertising, it got its fingers burnt when the TV camp dropped their prices in Germany like the proverbial stone. So, it's the UK's Ocean Outdoor that we have been most proud of in 2012. Ocean continue to pioneer all that is good with digital outdoor. Never does a week go by without us seeing come campaign somewhere on their network that is clever, stimulating or simply brillant AND their annual Art of Outdoor competition sets the standard in how to encourage innovative creative. Watch out in 2013 for more cleverness with their R&D OceanLab and announcements of big new deployments in major cities around the UK. These guys are pushing the envelope and doing so much good for the industry at the same time. You might also want to watch out for some growth in continental Europe by acquisition.
Phil Cohen. Last year it was Ken Goldberg, two years before that (in 2009) it was Goldberg & Gerba who made our list as 'bloggers' (albeit prominent, well known, veteran industry CEOs as well) but this year it's successful businessman, industry pundit, network owner and most recently Digital Signage Federation Chairman, the mighty Phil Cohen who is awarded the 'Ken and Bill Blog Award' for his vlog Cohen on Content. Phil is sometimes controversial but always delivers his thoughts on things that folks ought to hear in the most entertaining way
VUKUNET. No one would have believed in the last years of the nineteenth century that this world was being watched keenly and closely by … (sorry). Who would have believed, with the poor reception that VUKUNET had when it was first launched, that it would be where it is now. Many wannabees have come and gone and whilst it's not quite last man standing, we always said that the Japanese (NEC Display Solutions) were in this for the long haul. There was no doubt that Dirk Huelsermann, hired back in January, 2011, would get to grips with the European side of the business but it seems that globally VUKUNET is the platform that most of the media agencies and the digital networks are looking at, evaluating, trialling and in quite a few instances, using every day in real life.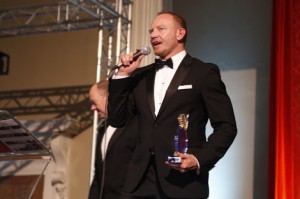 Brian Dusho. When BroadSign needed a man to step up to the plate, one man stepped forward. In March, 2012, BroadSign made the difficult decision to file for Chapter 11. Brian Dusho stepped forward and took charge of the most impressive piece of relationship building we think the industry has ever seen. He flew to see us in Las Vegas for a less than 24 hour trip, then flew to see his customers across the globe, all the time keeping employees informed and motivated. BroadSign didn't lose a customer in all this time, and even gained a few as well! We know that Brian was diplomatic, calming and honest with everyone about the situation. His manner with all (the high and mighty and even low lifes like us in the press) meant that trust was kept. BroadSign came out of Chapter 11 in a much better financial shape than when they went in (that's no doubt the point) but perhaps most importantly, BroadSign emerged with a fantastic reputation for honesty and integrity with their customers, employees and the press
For those of you who are interested you can see that we've been doing this 'Best of' for some time now