Registration for the Ministry of New Media's *new* AdTECH: OOH – Miami Conference is open and available here [1]. It will take place April 20 during #MiamiTech Month (was the 'Week' April 17 – 24, 2022 but now described as a 'month') [2].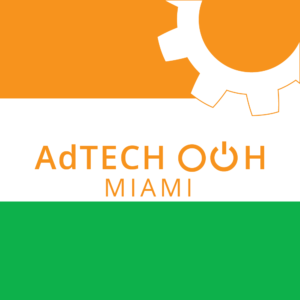 As usual, with our North American conferences, it will be chaired by Yahoo's Global Head of DOOH Stephanie Gutnik.
The conference takes place the day after eMerge Americas | The Premier Tech Event in Miami [3] April 18-19, 2022 and the day after LatAm DOOH, the DPAA's first ever in-person member networking meeting [4] in the region.
The conference has a distinct Latin America flavour and the afternoon will kick off with a keynote from Place Exchange's CEO Ari Buchalter whose company recently announced a partnership with Clear Channel Outdoor Latin America.
The Ministry of New Media event schedule for 2022 will see AdTECH: OOH Conferences [5] in Singapore (March), Miami (April), London (May), Toronto (May), Sydney (August), New York (October), Los Angeles (November) and Amsterdam (December).