Gail Chiasson, North American Editor
With hardware manufacturers building screens and video walls larger and therefore often heavier than ever, Premier Mounts has expanded its product line in quantity, quality and size, adding a new line of Mega Mounts to provide support for extra large, high definition displays from 65″ to 103″ and above, with a weight capacity of 500 lb., for a unique, large scale configuration.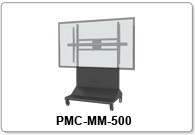 Delivering high quality products to match the needs of the ever changing industry, the products are versatile and flexible with user-friendly accommodations for adjustments and accessibility.
While we don't often write about the myriad of mounts needed for today's numerous installations, these colossal Mega Mounts might be well worth seeing. Premier Mounts is showing them up close and personal at #InfoComm2012, Booth C9319.